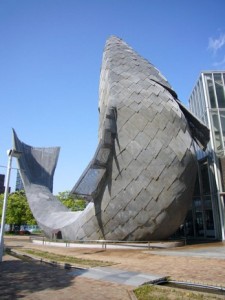 With NEXUS being in Japan this month, I thought I would do a little armchair travelling of my own. I have been looking at Kobe and the Hyogo area where the guys are performing. At the Kobe port waterfront, I found the iconic Fish Dance Restaurant designed by Toronto-born architect Frank Gehry. (Gehry recently created a major reworking of our Art Gallery of Ontario here in Toronto). The Fish Dance Restaurant sports a HUGE fish sculpture whose scales are overlapping slabs of slate. Not far from the restaurant is the Kobe Port Tower, shaped like a Japanese hand drum, a design which has proven to be earthquake-proof. From its top, you can see the city of Kobe and its port, as well as the Rokko mountains to the north and as far south as Kansai International Airport. Other unusual attractions in the city include a carpentry tools museum, a lamp museum, and Yumi Katsura's Bridal Museum. Yumi Katsura is an internationally renowned bridal designer, and here are displayed her original bridal gowns as well as a collection of ethnic bridal dresses that she has collected from around the world.
Together with Osaka and Kyoto, Hyogo Prefecture and the port of Kobe form the Kansai region. Kansai was the center of Japan for over 1,000 years until the capital was moved to Tokyo in 1868. So it is not surprising that Kansai is rich with shrines, temples, and historic sites. About half of Japan's designated national treasures and important cultural properties are located in this region. You can learn more and see some magnificent photos by going to Hyogo Tourism (click here). Here you will see the White Heron Castle, the beautifully elegant suspension bridge known as the Pearl Bridge, and you can check out their new blog called "Go! Go! Hyogo!" The area also boasts lovely landscapes of forests, lakes, hot springs and (of course) the sea. Hyogo is the only prefecture in central Honshu to enjoy coasts on both the Japan Sea in the north and the Pacific Ocean in the south.
NEXUS, please bring home photos!