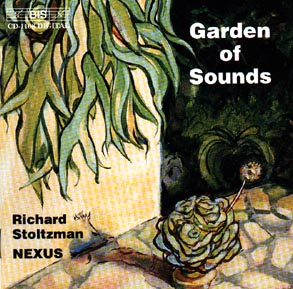 Michael Craden was a founding member of NEXUS. In addition to his skills as a musician, Michael was a gifted sculptor and painter with showings in Los Angeles and Toronto. Sadly, Michael passed away in 1982. In February 2000, BIS Records released Garden of Sounds featuring clarinetist Richard Stoltzman and NEXUS, an entirely improvised recording that explores the sounds of the clarinet and the vast collection of NEXUS percussion instruments. The CD was dedicated to Toru Takemitsu, a friend and mentor of the artists, and the title of the CD was chosen as a tribute to him, as he referred to himself as a "gardener of sounds". Thus, it made a great deal of sense to use Michael's painting Garden Shadows for the cover – and it is an implicit tribute to Michael's exceptional and memorable improvising skills. The Percussive Arts Society Hall of Fame member Emil Richards credits Craden as being "one of the forbearers of the free-form art movement of the early '60s." Inspired by Indian tabla rhythms, he experimented with numerical patterns, mathematical ratios, microtonal tuning, and rhythm, as it related to art.
Three of Michael's works – all associated with percussion – have been donated to the PAS Museum by the Celeste and Emil Richards Estate and can be viewed here.  They are entitled Bliss Conscious Vibe Player, The First Mallet Player, and Stone Marimba Player. As Richards wrote in 1996, "My favorite memory of him is that most of his artwork made me laugh. There was such humor in his art. And there was nothing he couldn't do rhythmically…  a very talented man."

Michael created a number of paintings for what he entitled his NEXUS Series. The first LP that NEXUS produced themselves was entitled Music of NEXUS. The cover art was one of Michael's NEXUS Series works, an abstract.  NEXUS member Bob Becker remembers, "Back in those days people often collected LPs just for the artwork, and students sometimes hoarded the sleeve from this one because it was all black, with the NEXUS logo in large white letters."
There does not appear to be any serious collection of Michael's work, either online or in any one place.  His work is scattered among the private collections of friends and family. In the 1970s he painted a portrait of Toronto musician and friend Bernie Piltch. Bernie's son David in California kindly sent me a photograph of it to share with you.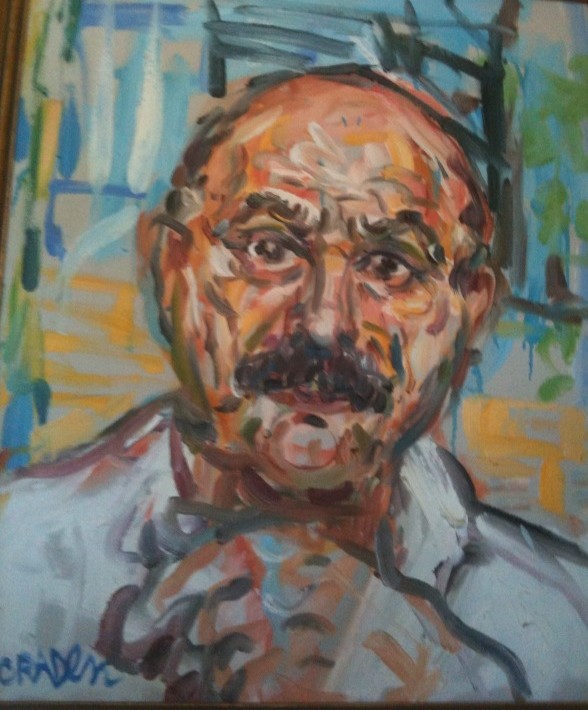 NEXUS' and Richard Stoltzman's friendship extends back to the late 1960s at the Marlboro Music Festival. In May 1995 they performed a two-hour session of improvised music together, followed by a series of collaborations throughout the USA and in Japan. in January 1997 the music reviewer of the Ann Arbor News described them thus: ' Playing with the energy of teen-agers and the insight of seasoned masters, NEXUS percussion ensemble and clarinetist Richard Stoltzman put on a fascinating display of virtuosity and cooperation.'