It has been a long time since I last saw the Mummers Parade on New Year's Day in Philadelphia.  It was probably when I was in the 6th grade or so.  This year, on a whim, I asked Ruth if she would like to go to Philadelphia for New Year's day and she said, "yes," so off we went on December 30 to the City of Brotherly Love, the city where I was born.  It was great to revisit the historic sites in Society Hill and to spend a few hours in the European and American sections of the Museum of Art.  (How amazing it is to once again experience the work of Eakins and Copley, and to see the examples of the exceptionally fine craftsmanship in colonial Philadelphia furniture!).
The Museum of Art, however, was in stark contrast to our first-ever visit to the earthy Mummers Museum in South Philly.  The Philadelphia Mummers are part of a tradition dating back to the 17th century in which fancy costumes are worn and paraded in public to celebrate the New Year.  It's sort of a civilized (that is to say, English?) variation of the Mardi Gras revelry in New Orleans or Carnival in Rio.  The Mummers Museum features a collection of some of the elaborate costumes worn in past decades, but surprisingly, there were no books to be found in the gift shop on the long history of this uniquely Philadelphia phenomenon .  This is a thesis waiting to be written to supplement the folksy (but not very academic) short articles which exist in abundance.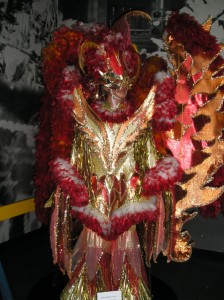 On every New Year's Day since 1901, the Philadeklphia Mummers – organized into four categories of social clubs: Comic, Fancy, Fancy Brigade and String Bands – have paraded down Broad street to enthusiastic throngs of onlookers.  The comic brigades are groups of from 10 to 1000 similarly costumed individuals, ranging in age from barely-able-to-walk to geezer.  Each person carries a distinctive parasol, which is waved around in step to the music as part of the distinctive 'Mummers strut.'
The strut is likely derived from minstrel shows and the famous Cakewalk of the late 19th century.  It can be performed with much elegance, and it is one of the defining elements of the Mummers Parade.  It was great to see it performed live again after so many years.
Another unique element in the day-long Mummers Parade is the string band music, this year performed by 17 ensembles.  I am not aware of similar ensembles existing anywhere else.  The string bands consist of banjos, accordions, mandolins, saxophones, upright basses, bell-lyres, a snare drum, bass drum, maybe cymbals, and sometimes violins.  It's such a distinctive sound, that I am tempted to think of string band music as a specialized form of ethnic music.  Unfortunately, the string bands have become much smaller than they once were.  I fear that it's part of an overall decline in acoustic music education in the schools in favor of electronic instruments.
In this year's parade most of the comic brigades, which in the past were accompanied by the string bands, were instead accompanied by huge electronic loudspeakers, mounted on the backs of pickup trucks and operated by sound engineers.  Also, it appeared to me that many of the banjo players were simply miming the playing, in order to put more bodies into the beautifully crafted costumes, having back panels decorated with numerous brightly colored feathers and sequins.
Furthermore, it appeared to me that (sadly) there has been a large influx of DCI (drum and bugle corps) marching presentation concepts.  Each of the string bands competes at the end of the parade in front of a panel of judges by presenting a short, 4-minute performance.  The performances seem to have abandoned much of the traditional strutting in favor of cross-stepping and sideways marching styles common to DCI.  There was also an  overwhelming presence of saxophones, in some cases forming virtual reed bands instead of string bands, as if the sax players (after leaving high school or college) are trying to continue playing by participating in the kind of DCI action, from which they are otherwise prohibited because of their instrument.
The music played by the string bands in the competition segment was mainly comprised of contemporary tunes, selected to highlight each band's chosen theme – tropical, agricultural, outer space, etc.  I didn't hear one band play the Mummers' traditional theme song, "Oh, 'dem Golden Slippers," or other traditional tunes like "I'm Looking Over A Four-Leaf Clover."
One thing I couldn't help but notice in this new politically-correct (but correct nevertheless!) century was the ubiquity of white Mummers, even though the music and the strut obviously owe much to black America, particularly in a city where race relations seem to have become so genuinely good.  I don't judge this to be a good or bad thing, just something that is.  Just as I recognize that ensembles from Sierra Leone are all-black, I willingly recognize and accept that the Mummers emanate from the white, working-class neighborhoods of Philadelphia and that the Mummers Parade presents a unique and profound insight into the culture of this city which has historically opened its minds and hearts to the benefits of diversity.

This year the Mummers Parade suffered from the financial problems facing most American cities; there was no government support and in fact, for the first time the parade participants had to pay a fee to the city for the police and sanitation services.  A real concern for the future of the Mummers Parade tradition was evident, but I have to continue to hope that such genuine expressions of identity and joy will find a place to exist for future generations.