FRIDAY, FEBRUARY, 7TH.
NEXUS BEGAN ITS DAY AT 8:00A.M. BY CRITIQUING THE PERCUSSION SECTION OF A LOCAL HIGH SCHOOL BAND. THE BAND AND THE MUSIC PROGRAM WERE AMAZING! THE SCHOOL HAS AN ORCHESTRA, A STRING ORCHESTRA, THREE BANDS AND CHOIRS. WE HAD NEVER DONE THIS AND IT WAS ONE OF THE MOST REWARDING EXPERIENCES OF OUR TOUR.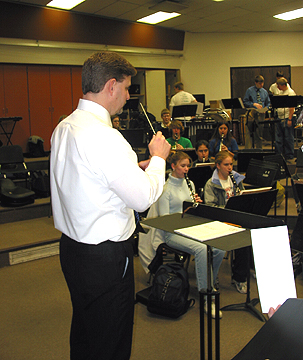 OUR EVENING CONCERT IN JESSE AUDITORIUM WAS RECEIVED WITH ENTHUSIASM AND IT WAS A GREAT PLEASURE TO SEE SOME OF THE STUDENTS AND THEIR PARENTS FROM THE HIGH SCHOOL.