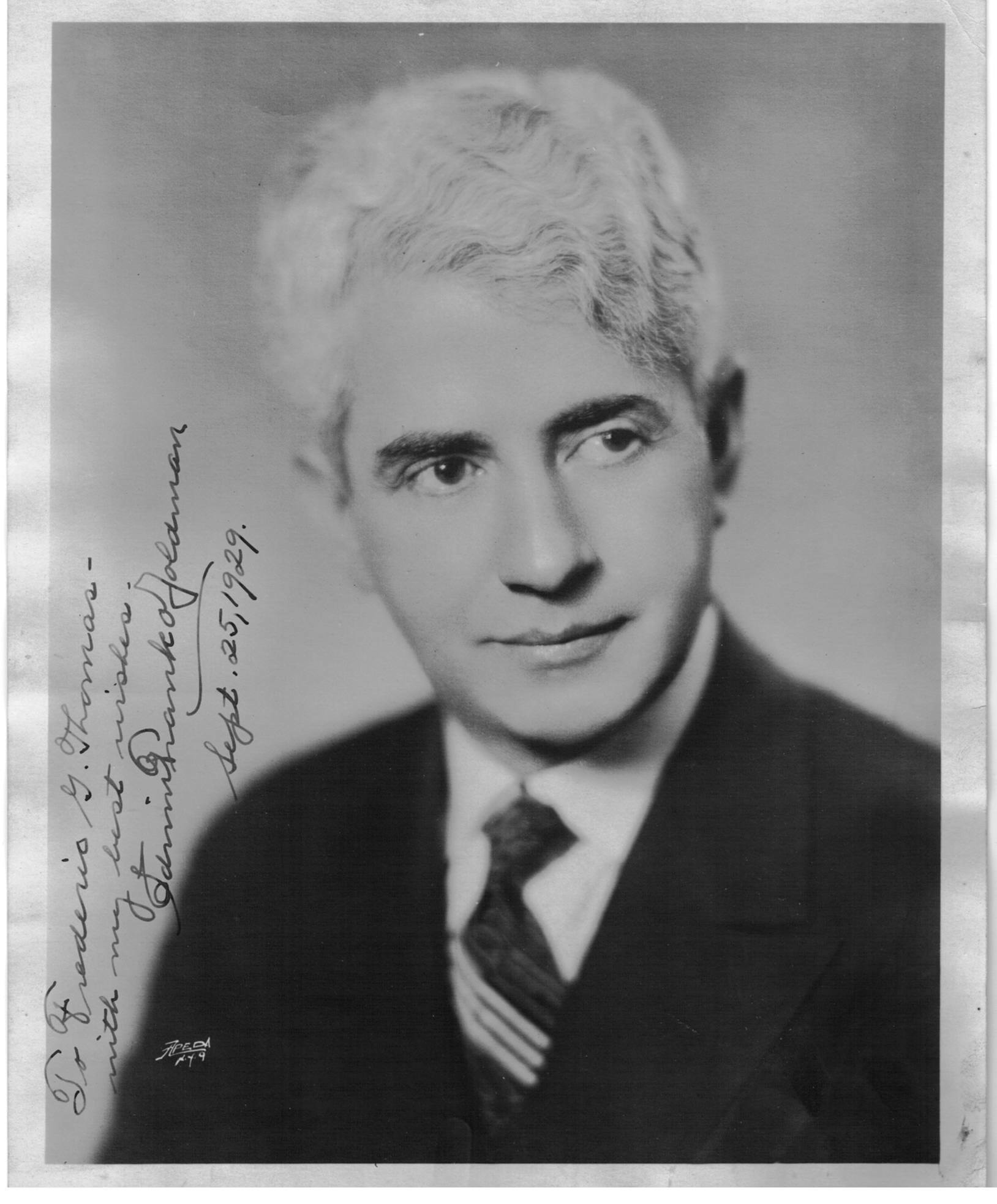 This week, the American Bandmasters Association has been enjoying its annual convention in College Station, Texas. About a year and a half ago, NEXUS found itself in Tulsa as the featured guest at the Oklahoma Bandmasters convention. NEXUS performed and presented workshops. There are Bandmasters Associations across North America in both the United States and Canada, under the umbrella of the ABA.
I was interested in the history of the ABA, especially when I saw that it was founded in 1929 (yes, this year is its 80th anniversary) by Edwin Franko Goldman of the famous Goldman Band. A few years ago I found an autographed photo of Dr. Goldman dated Sep 25 1929 among the personal effects of my great uncle, no doubt from a Goldman Band visit to Toronto, and clearly Uncle Fred had saved and treasured it. One of Goldman's most famous works was Bugles And Drums written in 1936. The West Point Band and Hell-Cats premiered the unpublished version of the march late in the summer of 1935.
In July 1929, New York was approved as the first meeting place of the new ABA. The charter members assembled there included the directors of His Majesty's Grenadier Guards Band of Montreal, Canada; the Chicago Concert Band; the Toronto Concert Band, Toronto, Canada; the Royal 22nd Regiment Band, Quebec, Canada; United States Navy Band; Arthur Pryor's Band, New York, NY; the Bands at the University of Illinois;and the ARMCO Band of Middletown, Ohio. Definitely a cross-border association!
This led me to discover A Job Well Done: A Short History of British Bandmasters Attached to Canadian Army bands during World War II, by Jack Kopstein at the website called World Military Bands. At this extensive site, you will find an abundance of information on Band History from the 17th century to the present day, world bands, Military Music festivals and Tattoos, the world book of military music, a section on national anthems, where to find The Sights and Sounds of Military Bands on the Web, and even a section on the music at State Funerals through the centuries. There is an excellent article on military band instruments at the site, too, but apparently drums and percussion are to be covered in a future (as yet unwritten) article.
Here is another tidbit: The first Honorary Life President of the ABA was John Philip Sousa. You can read The Experiences of a Bandmaster by John Philip Sousa at Project Gutenberg.