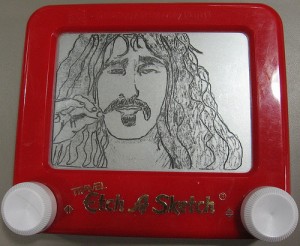 What could bring Zappa, Rubinstein, and a NEXUS premiere together in one blog post? Gordon Stout! Percussionists certainly know Gordon Stout, but some of our presenters may not. Gordon Stout is a percussionist, composer, and educator specializing in the marimba. Many of his compositions for marimba (for example Two Mexican Dances) have become standard repertoire for marimba players worldwide. He has been described as "the Rubinstein of all aspects of the marimba", and his playing has been called "transcendental virtuosity". And now NEXUS is the lucky recipient of his newest piece, Prelude – Winter Song.
NEXUS is rehearsing now and will premiere the work in a few weeks in Orangeville, Ontario (3 April, 2009 at the Orangeville Opera House) and in the Glenn Gould Studio, Toronto on 5 April 2009. Gordon finished the work the day after Christmas. He says it "kind of just popped out quite quickly." It is written for two marimbas, vibes, four drums and three cymbals/metal instruments. I grabbed Robin Engelman for a quick comment and he says the work is "quirky and fun to play." You can read more about the new piece in Robin's blog here.  Robin let me hear the midi file of Prelude that Gordon prepared from his Sibelius music writing programme, and I love it. Upbeat, quirky, full of interesting juxtapositions, and it has a curious sense of anticipation to it. I considered embedding the midi-file here for you to hear, but that would be cheating; the premiere is in early April!
Prelude – Winter Song was commissioned for NEXUS by Ruth Komanoff Underwood. Ruth was the percussionist for Frank Zappa's band for almost a decade, performing in over ten Zappa/Mothers of Invention recordings. To hear her impressive work, check out (for example) the Rollo Interior interlude from St. Alfonzo's Pancake Breakfast, from the Apostrophe (') album of 1973, and Inca Roads, the opening track on One Size Fits All (1975). She can be glimpsed in the 1969 Zappa movie 200 Motels, and the Dub Room Special DVD, which includes performances from the KCET Special 'A Token Of His Extreme'.
By the way, on New Year's Day in 2006 Gordon Stout conducted a 100 person marimba orchestra in the National Concert Hall in Taipei, Taiwan as part of the Taiwan International Percussion Convention. Wouldn't that have been something to hear!
(To see more portraits by the Etch-a-Sketchist, go here.)