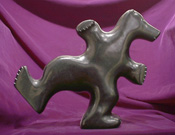 NEXUS is on their way to the Percussive Arts Society International Convention this week in Austin, Texas. It's an exciting time! NEXUS will be performing the world premiere of "The Eternal Dance of Life" by acclaimed composer Eric Ewazen. The new piece was written specifically for NEXUS with wind ensemble. For the premiere, the Meadows Wind Ensemble from Southern Methodist University in Dallas will share the stage.
Ewazen says his inspiration for "the Eternal Dance of Life" came from a visit to a Toronto museum where he was amazed by the Inuit sculptures. Speaking of Inuit beliefs in a recent article, he says, "When somebody dies, the spirits can enter animals and, at that moment, the animals can suddenly dance or do rituals. For them it's a magical moment." He listened to a lot of traditional Inuit drumming, and even purchased a dancing bear sculpture, an image that he brings musically alive in the third movement of the new piece.
Ewazen has composed for the Meadows Wind Ensemble several time in the past, and is well-known for his percussion writing such as "Northern Lights" written for Gordon Stout (a standard of contemporary marimba repertoire), "Concerto for Marimba" written for She-e Wu, and "Palace of Nine Perfections" for ten percussionists. Each NEXUS performer had input into the instrumentation for the new piece. The work is organized as a concerto grosso, but at the same time it is programmatic and tells a story. Ewazen has made "Eternal Dance" flexible enough that it can later be performed with band or symphony orchestra as well as wind ensemble.
More exciting news! The People's Republic of China has extended an invitation to the Meadows Wind Ensemble and NEXUS for a weeklong tour of China next May, and a Canadian premiere of the piece is also in the planning stages. So check back for more about Eric Ewazen's "Eternal Dance of Life"!
You can read an interview with Mr Ewazen here. Thanks to the Quest Gallery in Banff, Alberta for the dancing bear images.