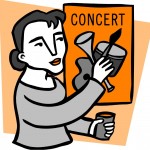 From time to time I will be reminding our presenters that NEXUS has marketing materials available for your use, and that some financial aid is available to you from our sponsor Pearl/Adams if you wish to present a NEXUS educational event such as a clinic, workshop, or master-class.
Drop us a line and we will send you a short and simple form that you can complete and fax or email to Pearl/Adams. You have to do this NO LESS than 30 days in advance of the event. Pearl will consider your request, and determine a level of support. They can't finance the whole thing, but they can put some money towards it. They will notify you of their decision by return fax or email.
As for marketing materials, we have flyers that we can send to you for your own overprinting. We have complete HARDCOPY press and promotional packages that we can snail-mail to you for committee meetings or newspaper and magazine writers.  (These come with full reviews, quick reference pages of press quotes and facts, press releases, biographical information, and we can also add technical requirements and lists of current programming offerings). Check out our photo library for downloadable high-res photos for newspaper or magazine coverage, for your program, your event's website, your brochures, or your own flyers.
And of course, the NEXUS guys are always happy to make themselves available for media interviews. We can also help you with Audio Clips.
To find out more about Pearl Drums you can visit their website here and the Adams Musical Instruments website is here.  You'll find NEXUS on their site here . Our sponsors are great! They have been supporting NEXUS' commissioning of new percussion works and providing instruments when NEXUS travels far afield. They can provide instruments in pretty much every corner of the globe, and that ensures that every NEXUS performance will be given on quality instruments.
If you need anything, or have any questions, just leave a comment or drop us a line!