FEELING THE PULSE     Spring touring took us to California Lutheran University in Thousand Oaks, the Episcopal Collegiate School in Little Rock AR, La Grange College GA and Wittenberg University OH. We opened each with Music For Pieces Of Wood, and we had guests provide "the pulse": Dave Johnson, Eric Saoud, Ken Passmore and Marc Smarelli respectively.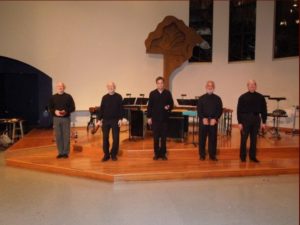 In SoCal we had a full house in the Samuelson Chapel with its unusual wooden tree sculpture. The audience liked our improvisation best!

In Arkansas we held 2 clinics and then the students performed with us. Jordan Stepka said it "was the highlight of my senior year."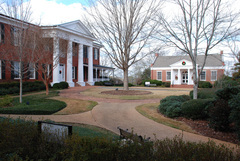 At the handsomely pillared LaGrange College, the oldest private college in Georgia, we were the closing event for their year's concert series. Students from Columbus State University also came down for the event.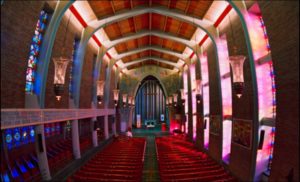 At Wittenberg University we performed beneath the beautiful stained glass of Weaver Chapel. Wittenberg is known for the John M. Chowning Laboratory for Music Technology. The visionary Chowning, a skilled percussionist, is a Wittenberg alumnus, a pioneer in computer music and founder of his Center for Computer Resesarch and Musical Acoustics (CCRMA). You can read a great article/interview HERE.   An interesting sidenote: Chowning worked for a number of years at IRCAM, a European institute for science about music and sound and avant garde electro-acoustical art music, located next door to the Centre Pompidou in Paris where we had performed the world premiere of Steve Reich's Sextet in 1984.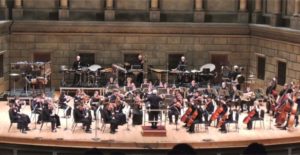 PERCUSSION ROCHESTER: A FESTIVAL      Bill Cahn with Michael Burritt and Kathleen Holt co-produced a 3 day music festival in 2012 called Percussion Rochester. What an undertaking! The 3 of them started planning in 2010 and there were 25 events over 3 days. You can see a video of the highlights of this festival HERE.  You can see us in the photo during our performance of our commissioned Zwilich work RITUALS with John Beck and the Eastman Philharmonia conducted by Neil Varon. In the video, it starts at the 9:25 mark and was the final event of the festival.
The photos were taken by Lauren Vogel Weiss, who along with her husband, Ron, traveled to Rochester from Texas to attend the NEXUS performance. Her article on Percussion Rochester was published by the Percussive Arts Society.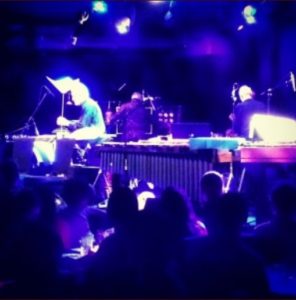 SOLD OUT IN GREENWICH VILLAGE    Sō Percussion invited NEXUS to be a part of a "Night of Awesome(ness)" at Le Poisson Rouge. The sold-out house also heard performances by the Akros Percussion Collective, the Mobius Quartet, the Meehan/Perkins Duo, Mantra Percussion, Tigue, and Sō. Some surreal photos came out of this amazing night of music-making. Tom Brett at his blog Brettworks writes, "It was during the bird call moments especially that NEXUS' subtly deep musicianship reminded the audience of the startling things that can happen when we listen and allow ourselves to be lead past technique and exotica and novelty towards micro sounds, quiet sounds, overlapping and uncertain sounds in close dialogue with one another that seem to surprise even the performers themselves as they're making them. That's a musical lesson I really want to remember."  You can read more of Tom's excellent article "On the Filtering of World Music: A Nexus Performance" (with some great YouTube clips too) HERE.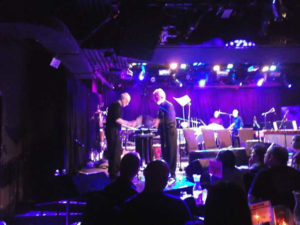 SOUNDSTREAMS AND FRITZ HAUSER   We had an amazing October week. We were honoured to be a part of Soundstreams' 30th Anniversary Spectacular at Koerner Hall. It was an ear-opening concert, beautifully presented, and a fitting tribute to Lawrence Cherney and Soundstreams, and their many accomplishments. Reviewer Margaret Lam wrote: "The works were presented by some of the best musicians this country has to offer: NEXUS performed Reich's hypnotic Clapping Music and Mallet Quartet with such ease and grace, each of the performers were like extensions of each other."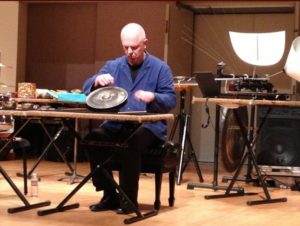 We then hosted a University of Toronto workshop with Swiss percussionist Fritz Hauser who was on tour in North America. We had a great turn-out for the lecture-demo and his work with individual students. Bob summed it up: "The session was very interesting  – and provocative!" Here is a photo of Fritz performing his piece "Shraffur" that day.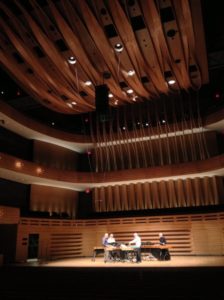 Also, here are a couple of photos of NEXUS rehearsing and performing Steve Reich's Mallet Quartet for the 30th anniversary. Soundstreams had been a co-commissioner of the piece.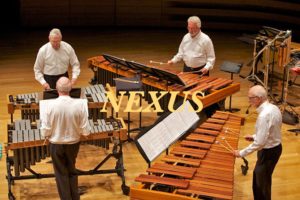 THE CITY WEARS A SLOUCH HAT    A momentous year: NEXUS joined Facebook!  And the first comment we received was, "So, when are you joining Instagram?"   Argh.  But that would come, too. At PASIC'12 Malletech unveiled new Bob Becker snare drum sticks, and we brought a once-lost Cage work to the Conference: his 1942 radio play, The City Wears A Slouch Hat.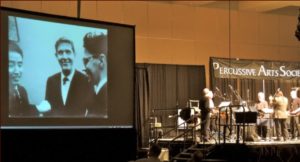 The John Cage Trust commissioned us to create the sound score to accompany a new film of light and shadows by multi-media artist Mikel Rouse. The PASIC performance was a "trial run" or "sneak peek".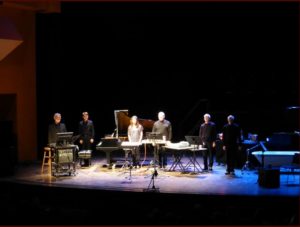 Originally "Slouch" had been broadcast as a Columbia Workshop production. Then the percussion music for it was "put away…. the score left with CBS." When Cage's music was published in the early '60s, Cage did not mention "Slouch". Then in 1990, librarian Bob Kosovsky found the score in the basement of the New York Public Library! That we were asked to premiere this revival was a great honour.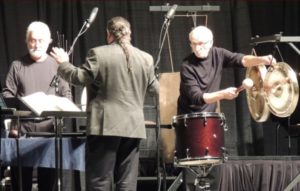 Ray Dillard conducted us at both PASIC and at Bard College which houses the Trust. He commented at the time that it was "tremendously complicated" and all of us were pleased at how it turned out. The evening was called "John Cage: On & Off the Air! " and was designed to spotlight Cage's fascination with technology and his interest in radio as both a medium of transmission and as a musical instrument. We spent the Sunday recording it, with Ray as engineer. Afterwards, the actors voices were added to the recording for our later Cage album.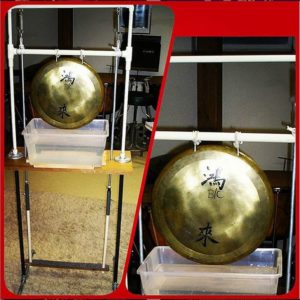 Bill Cahn created a new water gong: "As soon as I looked at my part, I realized that I would have to build a device to simplify the playing of a water gong.  Normally, the player has to pick it up, then lower and raise it in a large tub of water (causing the gong's pitch to be altered) while striking it, then set it down again.  I designed a pedal-operated water gong machine.  The gong is suspended on a rail that can be lowered into a small water container simply by pressing on a foot pedal, leaving the hands completely free, so there is no need to put down mallets and then pick up the gong, etc."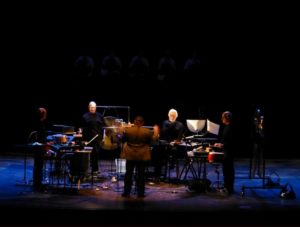 Thanks to Lauren Vogel Weiss, Emy Martin and Julian Lines for the photos. READ MORE about NEXUS and "lost works" HERE.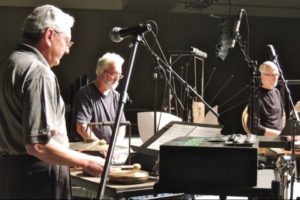 READ James Pritchett's history of "Slouch" HERE.