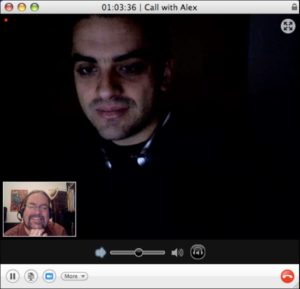 NEXUS GETS A WEBSITE!    Yes, 2008 was the year that we launched our website – and we all started to blog. It had been a long time coming – the Supplementary Funding Initiative from the Canada Council for the Arts really helped us get it off the ground. But it was Ray Dillard who threw himself into the project with enthusiasm and spent untold hours via Skype with the indomitable Alexandros Kessaris in Japan! Ray, never one to shirk a techno-challenge, climbed a steep learning curve while he and Alex took our mass of ideas and built it into a workable concept and fit all the NEXUS information into a sophisticated architecture. Here are the two of them during one of those 2008 Skype calls – the time difference was another challenge. And it continues to be! Alex, Ray and Russell went on to work together on a new online project, the Drumming At 50 website celebrating Steve Reich's monumental work. (You can find Alexandros Kessaris, Software and Process Consultant on LinkedIn.)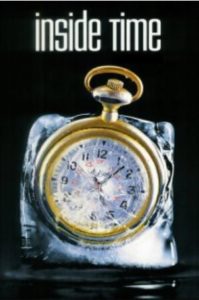 THE NOTORIOUS STOPWATCH GANG   In 2008 we received news of honours received by a film we had worked on. In 2007, NEXUS was asked to create the score for the National Film Board's "Inside Time" about bank-robber Stephen Reid of the notorious "Stopwatch Gang". Below are some shots from the session. The Stopwatch Gang robbed some 100 banks in both Canada and the US and Reid was sentenced to 18 years following a shootout with police in Victoria, B.C. Directed by Jason Young, the short film received the 2008 Robert Brooks Award for Documentary Cinematography and the 2008 Golden Sheaf Award in the Documentary-Social/Political category. NEXUS recorded the film's musical score spontaneously in a single session at Toronto's CBC studios.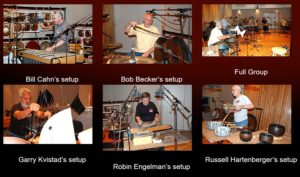 The score also includes some excerpts from Russell's Invisible Proverb and Bill's Rosewood Dreaming. The film explores Time from the point of view of someone who is "doing time". Reid contemplates his life "Inside" with acute observations. You can view the whole film HERE or skip through, finding parts of the score that arrest your ear. In 2013 Reid won a literary award for his collection of essays penned in prison, called A Crowbar in the Buddhist Garden. It was praised as a "prison ethnography taut with wit and humanity."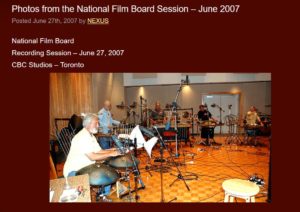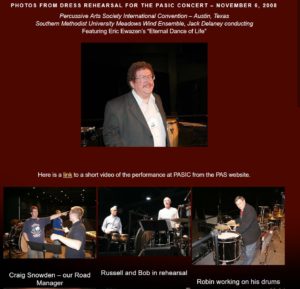 EWAZEN'S ETERNAL DANCE   We headed to Texas to perform the world premiere of "The Eternal Dance of Life" by acclaimed composer Eric Ewazen, written for NEXUS with wind ensemble. For the premiere, the Meadows Wind Ensemble at Southern Methodist University, Dallas joined us. Eric had come to Toronto in '07 to meet with us. He also workshopped at the Toronto Summer Music Academy with us, and while here he visited a Toronto museum where he was amazed by the Inuit sculptures. He was inspired and spoke of Inuit beliefs in an interview: "When somebody dies, the spirits can enter animals and, at that moment, the animals can suddenly dance or do rituals. For them it's a magical moment." He listened to traditional Inuit drumming and purchased a dancing bear sculpture, an image that he brings musically alive in the third movement. Here are rehearsal shots from SMU and dress rehearsal and premiere shots from PASIC'08 in Austin.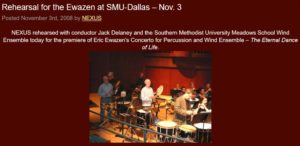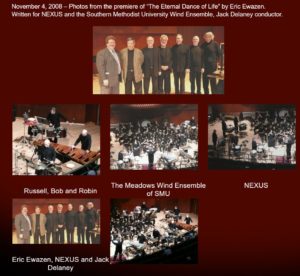 It was a wonderful success. Bill Cahn recalls our time in Dallas: "Our hotel was the local headquarters for the Republican Party that November election night – the night Obama was elected.  Needless to say, there were not a lot of happy campers at the bar that evening."
Read more: An article by Lauren Vogel Weiss about the piece HERE.  
A detailed interview with Ewazen HERE.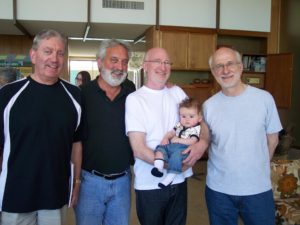 COOL CAGE AND THE REICH STUFF  We were back at Cool Drummings, Toronto, and also back at Ojai in California – but totally different programming. At "Cool" we performed Cage's Amores punctuated by Adrienne Clarkson's readings of Cage's own words – witty, wry, and sometimes weird, but Wow! We also presented Cage's First Construction (in Metal), Terry Riley's In C and Steve Reich's Proverb. At Ojai we joined Steve Reich, Sō Percussion, Ted Atkatz, Eric Huebner and maestro David Robertson for masterworks of Reich, Ligeti and Varese. Sequenza 21 said our Ionisation was "absolutely brilliant" while SoIveHeard said Drumming was "75 minutes of a young man's exhilarating arrogance that set music onto a magical pathway" and that "it got the all-star treatment: Nexus and So Percussion" and of course Steve Reich himself.  The next concert "towering": Dawn Upshaw and Kate Lindsey performed Pergolesi's Stabat Mater, and we joined Ted Atkatz and members of Sō for Reich's Tehilim. The LA Times music critic Mark Swed said it "lifted the spirits high…Ojai felt, for that hour, like holy ground." Reviewer Brett Campbell called it "one of the peak experiences of my musical life…a performance for the ages". Charles Donelan said, "positively transcendent to hear this work played perfectly…even the wind in the trees seemed to stop to listen to this most unusual and joyous of human expressions." The ecstatic whoops and cheers of the audience brought us out for 3 curtain calls.  Back here on earth, we visited L A Percussion Rentals – but isn't this a heavenly photo? Here we are with Abby and Dan Savell's new addition.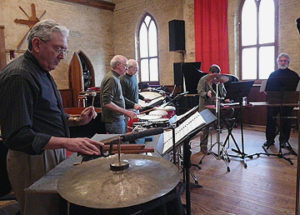 BECKER, CAGE's CREDO, AND DEAN   For your enjoyment, above are some shots from our Music Gallery concert in 2008 in Toronto. One of the pieces we performed was Cage's "Credo in US". This piece uses a radio tuned to a local classical station. Thus, each performance is unique, and the "soundbytes" in this performance  (some musical, some spoken), were so recognizable yet so out-of-context (or "re-contextualized", if you will) that the whole audience was chuckling. This was an important year for Russell Hartenberger too. He had been Interim Dean of the University of Toronto's Faculty of Music for a year and in 2008 he was officially named Dean. He was the first (and only) performance faculty member to become Dean in the Faculty's history. Also in 2008, Bob Becker participated in a panel discussion at PASIC'08 – you can enjoy the whole thing on Youtube HERE. It is in 6 parts. If you are interested in the many keyboard instruments that Bob owns, check out this 2008 posting from the NEXUS blog.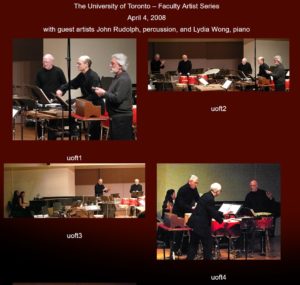 TALKING DRUM SYMPOSIUM   Russell Hartenberger brought together this terrific event at the University of Toronto, sponsored by the Jackman Humanities Institute.  There was a demonstration of the bell-like gankogui that is used by the Ewe drumming masters of Togo, Ghana and Benin. There were also workshops given on traditional Dagomba drumming from Ghana. We gave a workshop on Steve Reich's piece "Drumming" which was inspired by the Ewe drumming of Ghana. An interesting combination of talents was the performances of NEXUS with storyteller Dan Yashinsky who had worked with us before. For the symposium, Dan set a praise poem to our mbira piece "Tongues", he told the story "How Heart Came Into the World" accompanied by African bells, and he had NEXUS improvise behind his story "The Land of Those Who Were Thrown Away". This was also a year of summer festivals. After the Ojai in California, we headed to Woodstock Beat and performed with Peter Schickele. Then to the Ottawa Chamber Music Festival where we performed at the Montgomery Legion and The Canadian Museum of Civilization and also gave a youth concert. Then the Collingwood Ontario Music Festival and the Kincardine Summer Music Festival. You can read a great short article about the Ottawa concerts HERE.    We were reviewed favourably for our album "Wings" ( HERE )  and we enjoyed a great concert with John Rudolph and Lydia Wong at Walter Hall in Toronto.