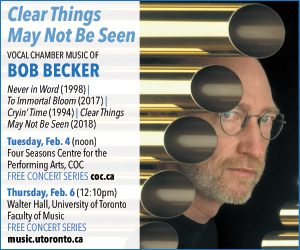 In February 2020, just before live concert music disappeared due to COVID, I was able to present two concerts of my vocal chamber music in Toronto. The first, on February 4th, was part of the Canadian Opera Company's Vocal/Chamber Music Series in the Richard Bradshaw Amphitheatre; and the second, on February 6th, was included in the University of Toronto Faculty of Music's Thursdays at Noon Series in Walter Hall. The program for both events was the same, and included premieres of two recent pieces: To Immortal Bloom (2017) and Clear Things May Not Be Seen (2018).
I was fortunate to find a wonderful team of musicians for the events, including two marvelous vocalists: soprano Lindsay Kesselman and mezzo Andrea Ludwig. Both were suggested to me by Midori Koga, UofT Professor and the pianist for our ensemble. Lindsay sang the solo parts in two of my earlier pieces Never in Word (1998) and Cryin' Time (1994), and Andrea sang the solo in To Immortal Bloom.
Together they formed the vocal duo for Clear Things May Not Be Seen. My long-time friend and colleague, Chris Norton, did double-duty playing marimba in the first two works, and conducting the final one.
I played vibraphone in each of the four pieces. Local virtuoso percussionist Louis Pino played glockenspiel and crotales in Never in Word, and marimba in Clear Things. Allison Rich was the cellist for To Immortal Bloom. Tiago Delgado and Colleen Cook played Bb and bass clarinets respectively, and UofT graduate students Heng-Han Hou, Gloria Yip, Maxime Despax and Allison Rich made up the string quartet.
The COC and UofT series are similar one-hour events held at noon, but the venues are in different parts of town and drew quite different audiences. We had full houses at both shows. Fortuitously, the four compositions chosen for the program totalled almost exactly 50 minutes of music, and had contrasting moods, tempi and orchestrations. Audio recordings of Cryin' Time and Never in Word can be found in a previous post on the website HERE. The two newer works were recorded in Walter Hall on February 5th by Ray Dillard and Peter Olsen (audio links below). Both pieces are based on poetry by the American author Conrad Aiken, which I've discussed generally in a previous blog HERE. The complete texts may be viewed HERE. John Gilks' review of the concert appeared on his operaramblings blog HERE. Clear Things May Not Be Seen is as yet unpublished, but the other three works are published currently by Keyboard Percussion Publications.
To Immortal Bloom
Clear Things May Not Be Seen