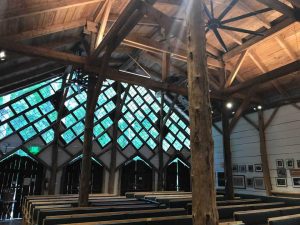 We received a great review of our Maverick Hall concert, from the Boston Musical Intelligencer, "a virtual journal and essential blog of the classical music scene in greater Boston".  Here are a few excerpts from Leslie Gerber's review:
"These virtuosi handled the difficult score with confidence and verve…"
"The audience ate it up and cheered at the end of the set…."
"The Maverick audience went quite wild…it's not often we get to hear a group of percussion virtuosi of this caliber!"
We were delighted to welcome Michael Burritt and Stacey Bowers as guest artists, (seen below with Garry and Bob, playing our piece Tongues). They added even more to a great evening. Thanks, guys!  Michael grabbed the shot of the unique interior of Maverick Hall during our afternoon rehearsal.
You can read the entire review here.