It was quite a we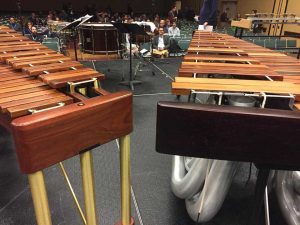 ek in Indianapolis. NEXUS record producer Ray Dillard gave a clinic on "Tips and Techniques for Recording Percussion in the  Modern Era" with the help of Escape X. Ray has done a few of these clinics now, and tries to make each one different – including different jokes, folks! This one focused on stereo mic techniques. He's knocked out by the response and the full house. If you were there, you also had an opportunity to hear Ray perform on tabla with Marimolin – a "welcome back" concert for the marimba/violin duo. You may have spotted him at the Dream Cymbal booth, or on his way to Music Technology Committee meetings. Always up for a challenge, Ray also undertook the sound design for Michael Gould's remarkable multi-media performance "Remember Me", and mixed it live. (Thanks to Andrea Venet of Escape X for this peek at the setup for Ray's workshop.)
Bill Cahn was part of a panel presentation on Group Drumming, why it matters, and how it can change lives. Illustrious co-presenters were Peter Erskine, John Fitzgerald, Peter Alan Hussey, Brian Prechtl and John R.Beck who master-minded. Bill spoke about his important work with kids in Rochester NY in his ROC Drummers program. And of course it ended with some group drumming grooves!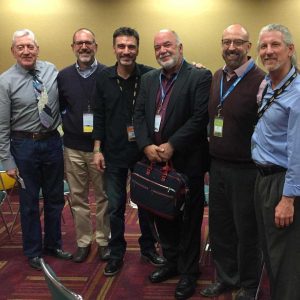 Bob Becker presented a Ragtime Xylophone Masterclass with Yurika Kimura and a wonderful program that featured these two power-houses along with David Eyler, Peter Erskine, Chris Norton, and Scott Herring! Standing Room Only for that one!
And that was just the tip of the iceberg! See you next year for more awesome-ness!