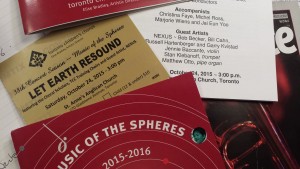 We've been having a really wonderful fall. Our newly launched CD "Persian Songs" with Sepideh Raissadat has garnered a terrific review from The Wholenote magazine's Andrew Timar. He calls it "an exhilarating listening experience"! You can read the full review here. Andrew provides some enriching background too. If you would like to purchase the CD, drop a line to billcahn@aol.com.
On the performing front, the gold ticket you see above is from our Toronto concert with the Toronto Children's Chorus, played to a full house in the awesomely beautiful St Anne's Anglican Church, a Heritage Trust building featuring sculptures, stained glass and a painted dome. Some of the paintings are by Group of Seven artists. Here is a photo that Bill took during rehearsal.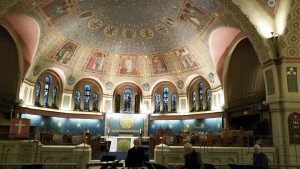 Isn't that somethin'? We enjoyed performing Russell's "Moondog Suite" and "SkyGhost" and Rick Kvistad's new arrangement of "Amazing Grace" with the excellent choirs of the Toronto Children's Chorus, and the audience joining in on Amazing Grace was particularly moving.
In a few days, we are heading to San Antonio TX to perform with Sepideh in the Lila Cockrell Theater, Nov 14, 4 pm, in a highlight concert at the Percussive Arts Society conference. Perhaps you will be one of the thousands who attend this massive event. We hope so! All of this is in addition to the many personal events that each NEXUS member is involved in. Follow us on Facebook to keep up with all of that news and to check out the latest stories and pics from all of us here at NEXUS. And just to add to the mix, we are on Instagram now, too! You will find us @NEXUSpercussion