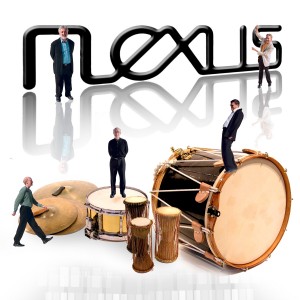 What a great weekend of NEXUS concerts! I attended the one in downtown Toronto.
You couldn't find a happier introduction to a NEXUS concert than the new work by Gordon Stout, Prelude-Winter Song, which immediately showed NEXUS to be in exceptionally fine form. Then came the cool simplicity of Arvo Part's Spiegel im Spiegel, arranged for NEXUS by Russell Hartenberger, and featuring Garry Kvistad's interesting bowing techniques. John Cage's Chess Pieces was inspirational, clearly demonstrating how finely attuned the NEXUS members are to each other. They play "as one", and it is quite something to hear and see. The program notes explained that Chess Pieces was originally a painting by Cage, with the music imbedded within it. In fact, NEXUS provided a copy of the painting in each program.  The first half ended with Bill Cahn's powerful Kebjar-Bali, which is great fun to watch and exciting to hear, with its multitude of cymbals,  gongs, and other instruments too numerous to mention.
The second half began with the recently rediscovered John Cage piece Dance Music for Elfrid Ide (1940) – a piece that is full of the unexpected, from slide whistles and noisemakers to a cheerful little toy piano. Then came Eric Ewazen's new work Soliloquy and Rondo. The Soliloquy is deeply moving. The Rondo has a madrigal feel with some of NEXUS' most exotic instruments "mixing it up".  Mr Ewazen told me "It's great fun to write for NEXUS!" And this is a lovely piece indeed. The concert ended with one of my all-time favorite NEXUS pieces, Russell Hartenberger's Invisible Proverb. The audience did not hesitate to give a standing ovation, myself among them.  Thanks, NEXUS!  My 16-year-old son attended with me, and he told me that he was heading home to put "a bunch of NEXUS stuff" on his I-Pod!
I hope you were able to attend one of the concerts. If not, stay tuned at our website here for news of the next one!