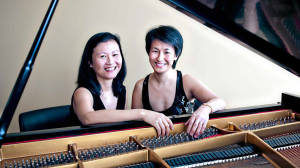 View photos of rehearsals for this concert .  Get ready for another fabulous evening of music with NEXUS and the piano duo 2X10, in Toronto on October 17th. On the heels of their critically acclaimed Series debut last season, the innovative pairing of percussion and duo pianos opens the University of Toronto's Faculty Artists Series with music by two of the most influential musical figures from the eastern and western hemispheres: Steve Reich and Toru Takemitsu.
Takemitsu composed the concerto From me flows what you call Time for NEXUS and symphony, and NEXUS member Bill Cahn has taken on the daunting task of creating a two-piano transcription of the orchestral parts. This is the world premiere of the new arrangement, and judging from 2X10's tour de force last year (performing Holst's The Planets and Stravinsky's Rite of Spring with NEXUS),  this will be a fascinating and superb performance. NEXUS has performed From me flows what you call Time all over the world, always to extraordinary reviews. Their performance of the piece has been hailed for its "unbelievable delicacy of feeling", "phenomenal virtuosity, and as "superbly musical". Takemitsu's piece has been called "lushly erotic", "strangely beautiful", and "a work of mesmerizing beauty". To have an opportunity to see NEXUS performing this exceptional work  – with the wonderful 2X10 duo (Lydia Wong and Midori Koga) –  on a picturesque array of exotic instruments – in the intimate setting of Walter Hall –  is indeed very special.
Also on the program is the Canadian premiere of Steve Reich's Dance Patterns. Written in 2002 it is Reich's contribution to Thierry de Mey's film Counterphrases of Anne Terese de Keersmaeker's Choreography, for which several composers wrote short pieces. Originally, while the film was shown, the music was performed live by the Ictus Ensemble, which commissioned all the music. The piece is scored for vibraphones, xylophones, and pianos.
The evening finishes with Steve Reich's Mallet Quartet, co-commissioned by NEXUS (with the help of Soundstreams Canada), Budapest's Amadinda, New York's So Percussion, and Australia's Synergy Percussion. The piece has been described as "beguiling", and "unashamedly optimistic and radiant". Joshua Kosman of the San Francisco Chronicle describes the piece as covering " the gamut from cool jazz to the piano ballads of Carole King. Even the instrumentation has a jazzy feel to it". If you were unable to get a seat for the sell-out performance of this piece in Toronto last year,  here is your chance.
Walter Hall, Monday October 17th, 7:30 p.m.  Tickets are available by clicking here.
See you there.