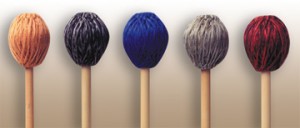 For a long while, NEXUS has owned two five octave marimbas and a vibraphone from Adams Musical Instruments . Adams, based in the Netherlands, manufactures timpani, marimbas, bass drums, chimes, mallets, temple blocks and many other percussion instruments.
Steve Reich recently wrote his Mallet Quartet for NEXUS in Canada, Amadinda in Budapest, So Percussion in New York, and Synergy Percussion in Australia. It is scored for two marimbas and two vibraphones. Adams Musical Instruments agreed to provide NEXUS with a second vibraphone, and as it was coming time to have our original marimbas and vibraphone retuned (it hadn't been done since we got them), Adams suggested that all four of the instruments be tuned together.
It wasn't long before all the bars from the two marimbas and the vibraphone were making their way across the Atlantic to Holland, where Adams technicians matched the new vibraphone to them and retuned them all. (NEXUS prefers A440 as it's tuning standard).
Having this carried out all in the same place at the same time allows for careful tuning not only of each individual set of bars, but of all four sets of bars as an ensemble. As NEXUS member Bill Cahn says, "It's important that the tuning be as uniform as possible in an ensemble of keyboard percussion instruments. If the tuning is not uniform, the effect can be something like listening to a honky-tonk piano where the strings for individual notes are not in tune with each other."
NEXUS now has the best possible situation for performing the new Steve Reich Mallet Quartet, not to mention the NEXUS ragtime repertoire (which uses two marimbas) and the Takemitsu songs which are written for several mallet instruments. All of the NEXUS mallet repertoire is going to sound fabulous. Thanks to everyone involved at Pearl and Adams!