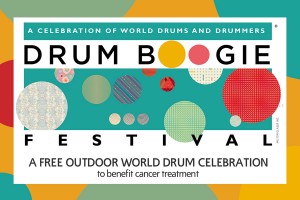 The DRUM BOOGIE FESTIVAL is just around the corner! It's on SATURDAY, September 17th, 9:30am – 8pm at CORNELL PARK, in Kingston, New York. (rain date: Sunday Sep 18th). NEXUS will be appearing at this FREE OUTDOOR WORLD DRUM & DANCE CELEBRATION in Kingston, New York, for the benefit of Family of Woodstock's Cancer Treatment Grant Program. You can make a charitable donation by clicking here.
A large DRUM CIRCLE for all levels and ages will kick off the Festival from 9:30-11:00am. The Drum Circle is in conjunction with www.drumStrong.com and will be led by Chet Doboe. You can bring a drum and a chair (optional); a small number of instruments will be available for loan. This portion of the FESTIVAL is about audience participation of the percussive kind!
For the rest of the day, 11am-8pm, NEXUS joins a cast of renowned drummers and percussionists who will perform on two stages: The Jack DeJohnette Quartet, Liam Teague, POOK, Energy Dance Company, The Jerry Marotta Band, Dennis Yerry and Native American Singers & Drummers, Jonathan Singer Ragtime Band, NYU Steel Band, HIP Pickles, The Valerie Naranjo Group (members of the Lion King Cast), Orlando Hernandez Tap Dancer and The Not-So-Traditional Rudimental Drummers.  Is that a line-up or what?  This portion of the FESTIVAL is a community party with great music and fabulous prizes donated by several companies. Check these out: a Zildjian Cymbal, Remo Djembe, Woodstock Chime, Chinese Gong, and a limited edition of a signed large Milton Glazer 2009 DBF poster.
Bring a blanket or chair and make yourself comfortable. There are good local eateries in Kingston's historic Rondout district. And don't forget that your donations to the cause are tax deductible. As our own Garry Kvistad says, "This event is produced by The Woodstock Chimes Fund and made
possible by its sponsors and through your participation -musically, financially, energetically. Please come with your groove on and JOIN our CELEBRATION."
Related show