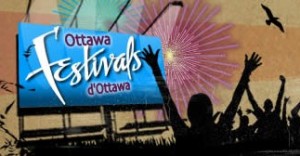 The summer festival season is well underway and NEXUS kicked it off with their performance at the annual Woodstock Beat in New York with the Canadian Brass on Independence Day weekend. NEXUS members performed on the Canadian Brass's "Stars and Stripes" CD that was on the Billboard Classical Chart for weeks, peaking at number two. Last week, fans put it back on the Chart at number eleven!!
In two weeks NEXUS will be performing two concerts at the 18th annual Ottawa International Chamber Music Festival. The Festival takes place in some of the city's most beautiful churches and heritage sites both indoors and out.  Concert-goers can start their day as early as 10 AM and attend the last concert of the day at the "late-night lounge", which gets underway at 10:30 PM. NEXUS will be part of one of these great late-nights on July 31st at the beautiful St Brigid's Centre for the Arts. This follows NEXUS' Big Birthday Concert, also on the 31st at 8 pm. You can find more information in our Events listing or by phone at 613.234.6306 or email info@chamberfest.com, or check out the Festival on Facebook or YouTube.
NEXUS will be joined in Ottawa by TorQ Percussion Quartet who, like NEXUS, are veterans of the summer festival circuit. This Fall, TorQ will be working with composer Christos Hatzis for the class "Composing for Percussion" at the Faculty of Music, University of Toronto. Christos wrote Four Rituals for NEXUS a few years ago.
Ottawa is not the only summer festival that has a percussive component this year. TorQ will be giving a free concert in the Toronto Music Garden at 4 pm on July 24th, as part of "Summer Music In The Garden". In May, the city of Vancouver saw percussionists Paul Bray and Sal Ferreras bring together some phenomenal performers in a new venue, the Fei and Milton Wong Experimental Theatre in the Goldcorp Centre for the Arts. In June, Frontier Percussion hosted the inaugural 2011 Frontier Percussion Summer Showcase in Toronto, Canada, with the theme of Percussion and Harp. In the heart of Vieux-Longueuil, Quebec, the Festival International de Percussions is in its 10th year and will present "five days of rhythm" this week, July 13-17. The Huntsville Festival (who presented NEXUS a few years back) presents Cuban rhythms this month, not to mention Washboard Hank with his collection of musical license plates and assorted bells and whistles (literally!)
I'm sure there are many I have missed. Look for a Festival near you, and enjoy!