On April 1, 2010 I was able to spend a day at the Malletech Company facilities in Neptune, NJ. I had discussions with Leigh Stevens regarding the new Malletech rosewood snare drum stick line, and in particular the design for my signature model (these should be appearing soon). We also discussed some new publications, and a possible new marimba mallet line. Later, I was able to sit down with Nora Clerc to go over the details of an order from Japan for a new XB4 xylophone. I'll be using the instrument for some performances following a NEXUS appearance with the Hyogo PAC orchestra in September (details to follow in a coming post.)
On April 2 (and again on April 21), I had my first experiences presenting a masterclass via the internet. The sessions were for students in the University of Arizona Percussion Department, and were facilitated, using laptop computers, by Professor Norman Weinberg and graduate student Kyle Maxwell Doherty. The April 2 session was conducted from a hotel room, and only consisted of verbal critiques to several soloists and ensembles. For the second session, I was at home in my studio, and so I could demonstrate my comments on instruments of my own. In both cases I felt a positive communication regarding some elements of the students' performances, however the small but noticeable delay of sound-to-visual, as well as a generally mediocre audio quality, handicapped my ability to discuss more intimate and subtle musical details. This medium needs to make more technological progress before I will continue to use it for musical teaching purposes.
On April 16 I traveled to Moorhead, MN for the Minnesota Day of Percussion held at Concordia College on April 17, 2010. Dr. David P. Eyler hosted the twentieth anniversary of this annual event, and reminded me that I had previously appeared at four of them (I now hold the record with five). I presented African drumming and mallet keyboard clinics, and appeared as guest soloist with the Concordia College Percussion Ensemble. Also featured on the day were timpanist John Tafoya, drumset artist Sammy K (Kestenholtz), and French horn soloist Seth Orgel.
On April 23 I traveled to Columbia, MO for a concert at the University of Missouri on April 24, 2010. Dr. Julia Gaines hosted my visit, which included a xylophone clinic and a solo appearance with the UMO Percussion Ensemble. Dr. Gaines had invited me to perform on the department's newly refurbished vintage Deagan xylophone. It was a pleasure to play on a fine old keyboard, as well as to perform with both undergraduate and graduate percussion students. Concert selections included Spanish Waltz, Stop Time, Valse Brillante, The Ragtime Robin and Alabama Moon. All are my arrangements of compositions by George Hamilton Green.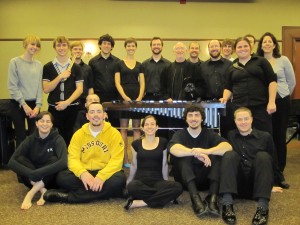 Above is Bob with the UMO ensemble and their vintage Deagan xylophone. Dr. Gaines is far right.
I was able to return to Toronto just in time for dress rehearsals for NEXUS' Canadian premiere performance of Steve Reich's new Mallet Quartet on April 29, 2010.