I had a number of interesting and enjoyable tours during the first months of 2009. On January 9 and 10, I was in Minneapolis for the Minnesota Day of Percussion held at Anoka High School. This was a splendidly run and densely packed day of concerts and workshops. I presented both snare drum and cymbal workshops, and then performed with host Bo Hoover's students for the final concert. A few days later I also gave a masterclass for some of the percussion students at the MacPhail Center for Music in downtown Minneapolis, hosted by Paul Babcock. Five of his advanced high school students make up an ensemble called "Rimshots!", and they played John Wyre's Marubatoo, Bill Cahn's arrangement of The Vamp, and my arrangement of George Green's Charleston Capers. It was fine playing from some very committed young percussionists.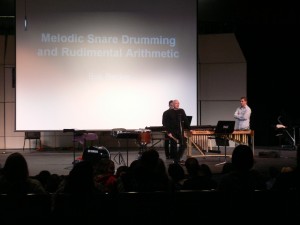 A few weeks later I took part in Les Échanges Percutants – Journées de la percussion du Québec, a festival hosted by Robert Leroux and the Montréal percussion group Sixtrum at the Université de Montréal. This three-day event included concerts and workshops by outstanding Québec groups and soloists, including Sixtrum and percussion ensembles from McGill University, University of Ottawa, University of Québec, University of Montréal, University of Laval and the Conservatory of Music of Montréal. Besides myself, other featured performers and clinicians were Jim Petercsak, Louis Charbonneau, Paul Picard, Patrick Graham and Anne-Julie Caron.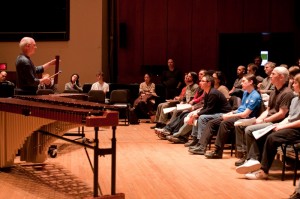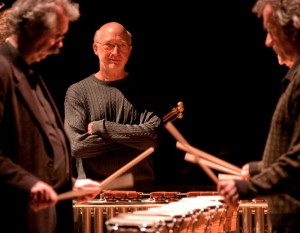 Fortunately for me, I had most of the month of February free, and so I was able to prepare my parts to several new pieces slated to be premiered on two NEXUS concerts at the beginning of April. Both Eric Ewazen's Soliloquy and Rondo, and Gordon Stout's Prelude – Winter Song, needed serious work to learn. Since Ewazen's two movements require non-stop playing in my marimba part, I wanted to memorize the piece in order to avoid having to make page-turns. In addition, Russ Hartenberger made a beautiful arrangement of Arvo Pärt's Spiegel im Spiegel, and Brian Nozny arranged John Cage's Chess Pieces for NEXUS to premiere on the same shows. I had my hands full to learn the new pieces and also brush up on Bill Cahn's Kebjar-Bali and Russ Hartenberger's The Invisible Proverb, which completed the programs.
On March 3 I was in New York City for a performance of Steve Reich's Music for 18 Musicians, which was the finale to a marathon concert presented as part of the opening celebrations for the newly-renovated Alice Tully Hall at Lincoln Center. The acoustic of the new hall has received mixed reviews so far, and I was unable to make a judgment this time, because most of the music on the concert involved amplification to some extent. It is a beautiful-looking renovation, and there is now more room onstage (although less in the wings).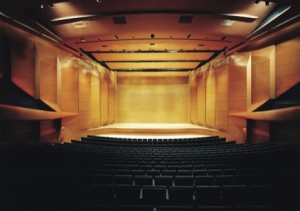 The concert was meant to give a kind of historical overview of New York City's new music scene, featuring performances by three generations of ensembles. First was the relatively young ensemble Alarm Will Sound, followed by a more "middle-aged" Bang On A Can, and then Reich's group (variously described now as "venerable" or "grizzled", depending on the reviewer's taste). It was interesting to compare the styles of repertoire chosen by the three ensembles, because, at least to my sensibility, the youngest ensemble presented pieces that sounded the most old-fashioned, even though they were the most recently composed. For me, much more interesting was a comparison of the playing styles of each group's members, and the resulting effect of that on the overall sound and feeling of each ensemble, regardless of repertoire.
Beginning on March 22 I spent a week in the Dallas/Ft. Worth area of Texas. My hard-working agent, Lauren Vogel Weiss, had arranged a very concentrated series of workshops and concert performances in the immediate area around Fort Worth. A bonus was the fact that Lauren and her husband Ron also live in this area, and so I was able to have several very enjoyable dinners together with them. I was also delighted when Dallas Symphony principal percussionist Doug Howard arrived to join us one evening as well.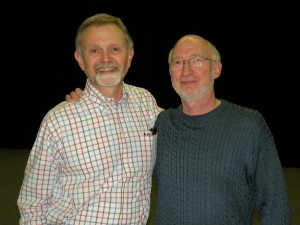 My first stop was Texas Christian University, with a three-day residency for Brian West's outstanding percussion department. I presented workshops on tabla, xylophone and cymbals, and played a concert with the percussion ensemble, which featured my pieces Away without Leave and Mudra, as well as a substantial selection of novelty and ragtime xylophone solos. It was a special treat to perform an all-star version of Away without Leave together with faculty members Joey Carter, Jeff Hodge, Paul Rennick and Brian West.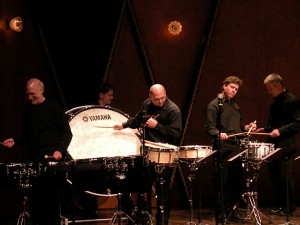 Another stand-out from the concert was Tahlequah Kirk's fabulous performance of the bass drum part in Mudra. Later in the week I presented workshops on xylophone and West African drumming at Tarrant County College, where I was able to reconnect with percussion instructor Warren Dewey, who had previously attended one of NEXUS' summer seminars in Toronto.
My final two days were at Summit High School in Arlington. I am continually amazed to see the scope and quality of the percussion training offered in the Texas public school systems. Shawn Hart runs a great program, and it was a pleasure to perform with him and his students.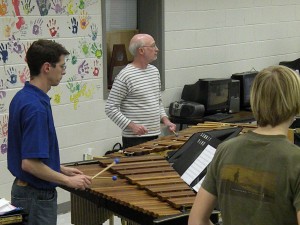 Following the NEXUS concerts on April 2 and 4, I traveled to Evanston, IL for a concert at Northwestern University's Pick-Staiger Concert Hall on April 9. Billed as "TangoRhythmia", the show featured the Northwestern University Percussion Ensemble and its director She-e Wu, as well as bandoneon virtuoso Peter Soave, and me. I have performed with Northwestern's percussion ensembles several times over the past decade, and I'm always impressed by the students' facility, enthusiasm and professionalism. Michael Burritt formerly, and now She-e Wu have maintained very high standards in the department for a long time. The ensemble played an expanded version of Away without Leave with each part doubled. That was She-e's idea, and it sounded great, although I might not recommend it for less accomplished ensembles. For my part of the program, we also prepared an arrangement I made of some West African drum styles, as well as several of my arrangements of 1920s songs. The first half of the concert featured Peter Soave, She-e and the ensemble in some lovely arrangements of Astor Piazzolla's music. A standout for me was Peter and She-e's bandoneon/marimba duet based on the Prelude from Bach's G major cello suite. She-e's approach to Bach is unique – her performance of this music is not about technique or mallets or even the marimba. It is simply about musical expression, as it should be.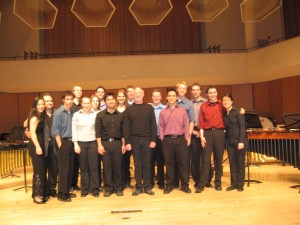 A week later I packed up my xylophone, songbells, glockenspiel, snare drum, tabla and around 40 cymbals, and drove to Oxford, OH for a residency at Miami University. It was an intense two days, with workshops on cymbals and rudimental arithmetic, and a concert together with Professor Bill Albin, his students, and Srinivas Krishnan, director of the Global Rhythms Ensemble. Srinivas (on vocal and cahon) and alumnus Pat Hernley (on tabla) collaborated as soloists in my piece Palta, accompanied by the full ensemble with me on vibes. Every time I perform this piece, whether I'm the soloist or playing in the ensemble, it takes on a new character. That's a very exciting and gratifying situation for a composer. Srini and Pat went in surprising, and beautiful, directions with it. I also played my pieces Unseen Child and Mudra with the ensemble, and ended the concert with several of my medley arrangements for xylophone and marimbas. After the show, I discovered my old friend Bill Platt, principal percussionist with the Cincinatti Symphony, had come to the concert. As always, it was wonderful to have a chance to sit down with him and hear about his latest news and projects. It is remarkable that, after all of these years, we can still get excited while discussing new ideas for snare drum designs.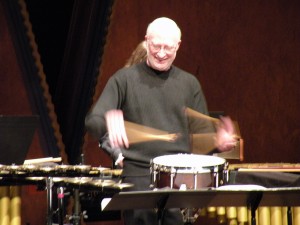 I now have some needed free time before my coming residency with Roots and Rhizomes at the Banff Centre in June. There are some new composition and arranging projects that I want to begin. Check back later for an update…