Last week (July 6 through 10) I participated in The Eastman School of Music's first annual Summer Percussion Institute, directed by Eastman Professor Michael Burritt. On Thursday, July 9 I facilitated a "Creative Music Making" workshop for twelve participating students. The 2-1/2-hour workshop focused on freeform improvisation, based on my book, "Creative Music Making".
In the workshop, each of the 12 participants had an opportunity to perform and record improvised pieces for listening and discussion. A Thursday evening public performance in the Eastman School's Kilbourn Hall provided a distinguished forum for participants to put their workshop experience into practice. The performances of three improvised pieces by the participants were wonderful, and the audience responded with sincere appreciation. Earlier on the concert, each participant performed a solo piece, most of which were works for solo marimba; one participant played a piece for four timpani and another played two pieces for unaccompanied vibraphone. Every one of the solo performances was engaging and well presented – clearly demonstrating growth as a result of the week's activities.
Earlier in the week there were daily sessions and workshops, as well as a solo recital by Professor Michael Burritt with myself and John Beck as guests. Here is the schedule:
Sunday
evening – orientation meeting
Monday
morning – masterclass: each of the 12 participants performed a pre-selected solo work
afternoon – clinic/masterclass with Professor Burritt
evening – recital in Kilbourn Hall by Michael Burritt with guests John Beck and Bill Cahn (I performed with Michael on a freeform improvisation titled "Common Ground")
Tuesday
morning – masterclass/clinic with Professor Burritt
afternoon – snare drum clinic with Lee Vinson, percussionist with the Boston Symphony
Wednesday
morning – timpani and Improvisation clinic/masterclass with John Beck
afternoon – clinic/masterclass with Professor Burritt
Thursday
morning – "Creative Music Making" clinic/masterclass with Bill Cahn
afternoon – teaching/learning clinic/masterclass with Ruth Cahn
evening – recital by participating students in Kilbourn Hall
Friday
morning – reception/career clinic with Professor Burritt, John Beck, Ruth Cahn & Bill Cahn
One of the memorable exchanges between myself and the participants in the "Creative Music Making" session on Thursday involved differing perceptions on the experience of ensemble playing – on the one hand, playing from the very beginning of an improvised piece, and on the other hand, entering into a piece after it was already well underway as part of a tag-team improvisation. Some participants viewed the two experiences as radically different – there was a sense of ownership when playing at the beginning of an improvisation that was missing when joining into a piece that was already established by the preceding players. For me it seemed that the main issue in both scenarios was virtually identical – to listen and make a appropriate musical responses. I compared it to sitting silently through the first two movements of the "New World Symphony" by Dvorak and then joining in with the triangle part. A number of the students still perceived even this scenario as very different from having to
enter into an ongoing improvisation. Of course, there was truth on both sides and perhaps an apples/oranges comparison in the alternative views. The lively discussion was left unresolved, with both sides understanding and respecting, but not necessarily agreeing with the opposite viewpoints.
My participation in the summer institute was made possible with the generous support of Sabian Cymbals, and Vic Firth Inc., and I am looking forward to the second annual Eastman Summer Percussion Institiute in 2010.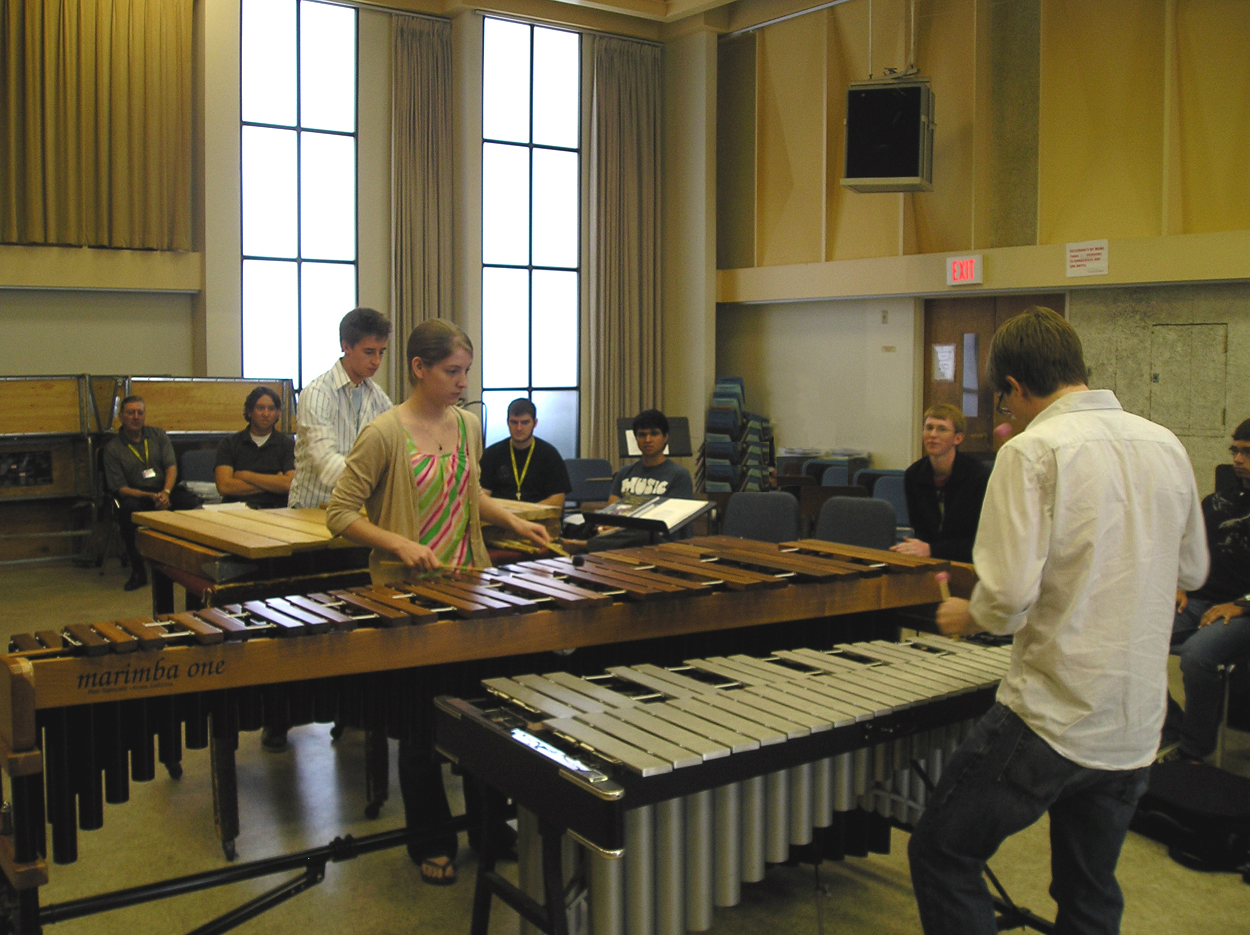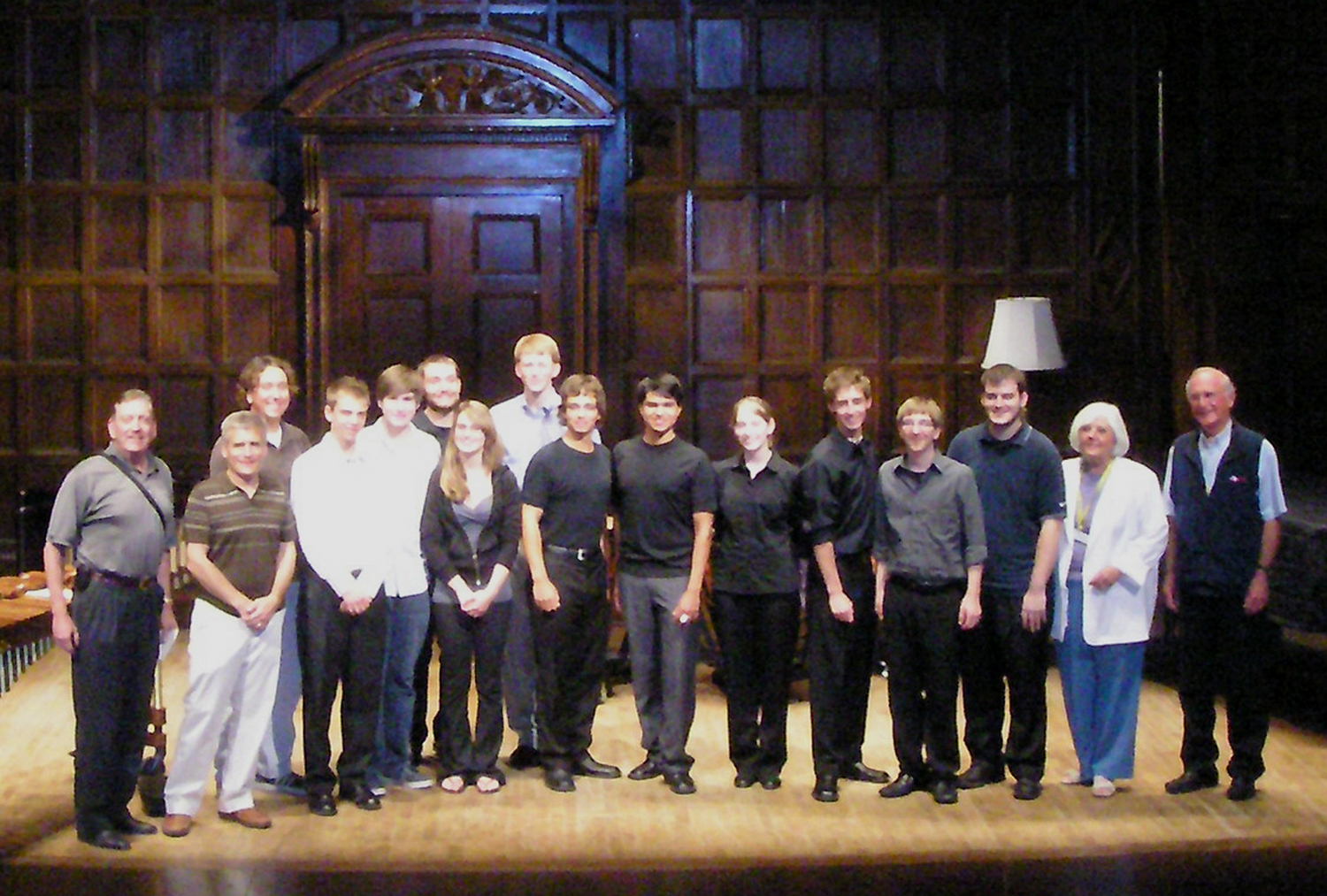 Left to Right: Bill Cahn, Michael Burritt, Chris Capurso, Isaac Stevenson, Ben Paulson, Jason DeCristofaro, Gabriella Vizzutti, Michael Garrett, Alex Cheatham, Bobby Fajardo, Amanda Lyon, G. Andrew Wilkin, Mike Dillman, Jamieson Carr, Ruth Cahn, John Beck