A quiet Saturday at home.  That's how May 1, 2010 began.  After a late wake-up and a leisurely breakfast, I wandered over to my computer to catch up on emails and if time permitted, to finally – after two-years of thinking about it – get started on a concert band arrangement of "Night Ride," the quasi-concerto for timpani that had been originally composed for NEXUS, and was already arranged for symphony orchestra.  But I would not be able to get started, at least on this particular Saturday.
At 2:00 in the afternoon my phone rang.  It was the personnel manager of the Rochester Philharmonic Orchestra, and his voice sounded a bit urgent.  He got right to the point: the orchestra's Principal Percussionist was unable to play, and the orchestra needed a substitute for a concert that night.  I was asked if I would be able to do it.
I had been invited to play in the RPO percussion section several times after I left the orchestra in 1995, but I said, "no,"  every time, at least until the first and only exception last season when I substituted for the RPO timpanist during one week.   In my mind, playing timpani was a different matter (see the May 2009 blog posting, "Timpani Revisited").  It was likely to have been my last opportunity to ever play timpani in an orchestra.  After all, it was playing timpani that had originally given me the greatest motivation to pursue a life in music.  Plus there were other  factors in my agreeing to play timpani: there would be no other percussion at all on the program, and all of the other percussionists in the RPO had already made other commitments, so I wouldn't be displacing anyone else.
In 1995 when I left the orchestra as a full-time player, the idea of returning back into the percussion section as an extra player was something I had resolved not to do.  I wanted a clean separation, and I did not want to take work away from others – especially from students at the Eastman School.  For better or for worse, I clearly recalled thinking when I initially joined the RPO as Principal Percussionist  in 1968, that I  did not want to become like some of the older players in the orchestra who, as it seemed to me, were approaching music as a job and not as a passion.  I firmly resolved that two things in particular, should they ever occur, would be clear signs that it was time for me to move on and do something else other than play in the orchestra: 1) if I would ever wake up in the morning thinking to myself that I didn't want to go to a rehearsal or concert, and 2) if I ever got to be 50-years old.
Fortunately, through almost 30-years, I never woke up thinking that I didn't want to play in the orchestra.  But in 1995 I was 49-years old and that little voice inside was telling me in no uncertain terms that it was time to move on.  It was lucky for me that NEXUS at just that same time was entering into a period of enormous opportunites.
All of these thoughts ran through my mind as I considered how to respond to the Saturday afternoon phone call.  The personnel manager was frantic and needed an answer quickly.  The Saturday night concert – only a few hours away – would be a repeat of the Thursday night program which had been prepared in four rehearsals.  There would be no rehearsal for me; it would have to be on-the-spot, one-shot music-making, so I asked about the pieces on the program.  They were "Variaciones concertantes" by Ginastera (no percussion, only timpani), the Tomasi "Trumpet Concerto" (I would play triangle in movements 1 and 2, and snare drum in movement 3), and the Rachmaninoff "Symphony No. 3" (I would play the snare drum and xylophone throughout and tambourine in the last few measures).  The guest conductor would be Rossen Milanov.
Apparently, I was the only percussionist in Rochester available with some prior orchestra experience.  All of the regular extra players were committed elsewhere and the Eastman School students were involved in school activities.  I had played both the Tomasi and the Rachmaninoff pieces in the past, but many years ago, and I remembered almost nothing about either piece.
The troubled voice at the other end of the telephone, and the particular urgency of the problem got to me, so I said "I'll do it!"  As soon as I got off the telephone, I shut down my computer and ran over to my files of orchestra repertoire.  Through my years in the RPO I had regularly made my own copies of percussion parts to virtually all the repertoire we played.  I didn't have the Tomasi in my files, but "voila!" I had my own set of all the Rachmaninoff percussion parts.  I looked through the snare drum part and then ran to find my snare drum to set it up.  I played once through the entire part from beginning to end just to get a handle on what I needed to do in the remaining few hours.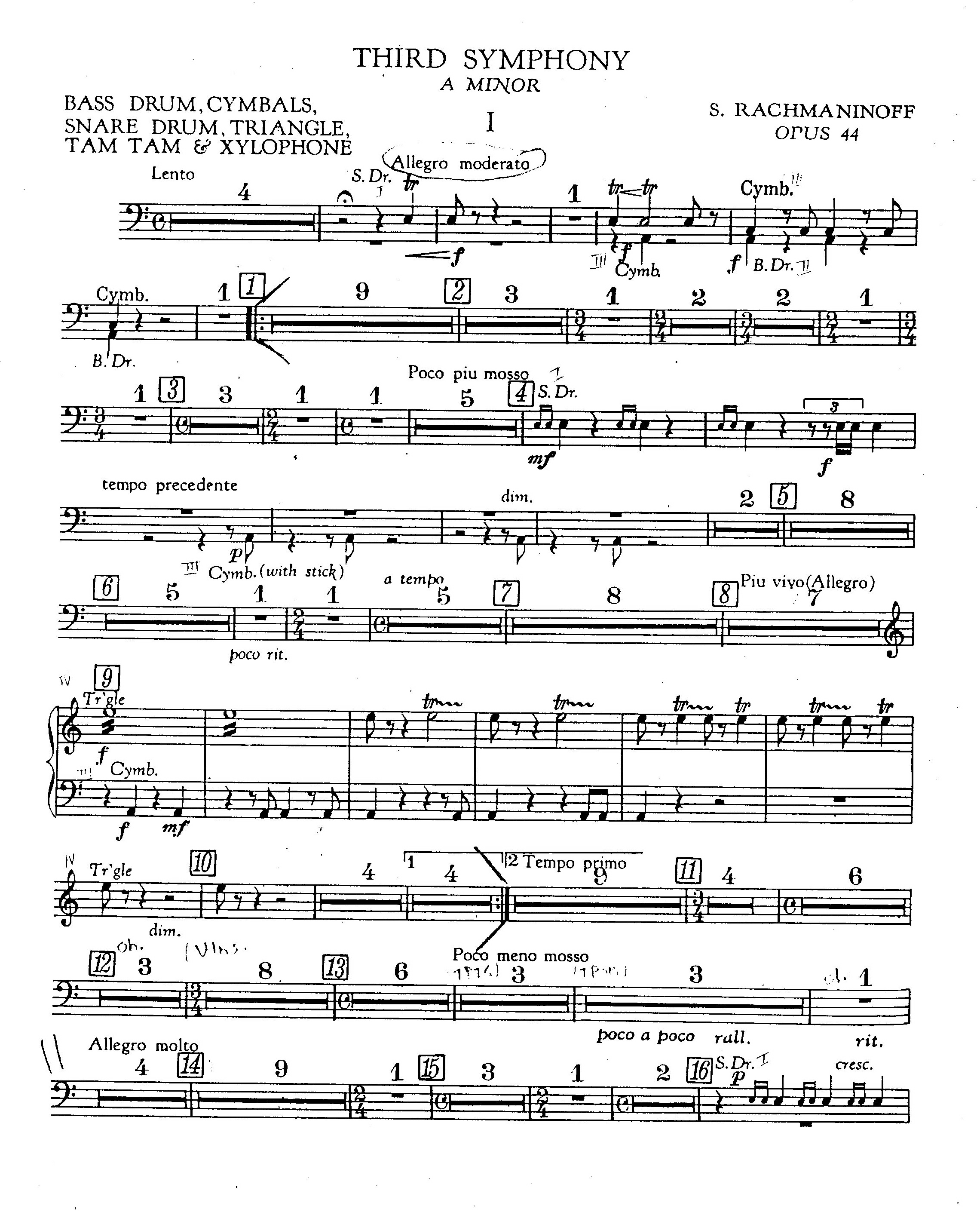 Next I ran to my clothes closet to dust off my tails.  I even changed into them just to be sure that everything was presentable.  It was, so I changed back to my street clothing and  loaded everything – tails, snare drum, drum stand, triangle, tambourine, and sticks – into my van.
I drove to downtown Rochester and the Eastman School's Sibley Music Library to double-check a few things in the score.  I found a recording of the Rachmaninoff "Symphony  No.3" and listened through the entire symphony two times, all the while penciling additional cues into the snare drum part.  This would greatly assist me in feeling somewhat comfortable with the tempos and dynamics, not to mention knowing my place in the music.
With just two hours to go before the downbeat, I found a studio at the Eastman School, set up my snare drum again and wheeled in a xylophone.   Having familiarized myself with the piece through listening, I played once more through all of the parts, trying to hear the rest of the orchestra in my mind.  The xylophone part in the Rachmaninoff is small, but there is one very tricky double-stop passage that I needed to work on.  Twenty-minutes later, I was secure enough to head over to the Eastman Theatre to get dressed.  The members of the percussion section had agreed to meet with me at 7:00 to discuss any unresolved issues.  As it turned out, there were none, so I tried to put everyone (including myself) at ease as much as possible.
At 7:00 there was also a pre-concert talk underway on stage involving the conductor, Rossen Milanov.  He had only moments earlier been informed of the substitute situation, and he accepted the circumstance gracefully.  He was at least relieved to know that the substitute player would be a former Principal Percussionist.
As soon as the pre-concert talk ended, Milanov came off stage and greeted me.  It turns out that he was playing in the Philadelphia Orchestra the week in 2001 that NEXUS performed Takemitsu's "From me flows what you call Time:" conducted by Robert Spano. Small world!  First he told me how much he was moved by the Takemitsu, and then he asked if I had any questions about any of the pieces we were about to play.  He graciously conveyed the tempo of the double-stop xylophone passage in the first movement, as well as the tempo of the snare drum solo at the Moderato in the third movement.   After that – OK, we're ready to "rock-'n-roll!"
The "Trumpet Concerto" went without a hitch, and after the intermission it was time for Rachmaninoff.  What a flashback it was to be once again on the Eastman Theatre stage playing Rachmaninoff.  There is nothing that can compare with being totally immersed in the sound of an orchestra playing Rachmaninoff.  Rossen Milanov was very clear, but more than that, he gave the orchestra all of the Russian passion that the music required – not more, not less, but just right.  His cue to me for the snare drum solo in the third movement was exactly as he had promised. The orchestra sounded great and the performance was extremely satisfying.
Many of my friends in the orchestra – at least those who were once colleagues – came back afterwards to say "hi" and exchange congratulations.  As I made my 35-minute drive home, my mind was filled with fond remembrances of many concerts with the orchestra in years past.  But I also appreciated the fact that I would not have to wake up early the next morning to go to a rehearsal for the next program, though one really can't know what might happen as a day unfolds.  I certainly had no idea what was in store for me when the sun came up on Saturday morning.