I first met Kazunori Meguro in Okinawa, Japan in October 1997.  He was performing with his Tokyo-based percussion ensemble at a drum festival, to which NEXUS had also been invited.  As a result of that meeting, I was invited in 1998 to guest teach for two weeks at the Showa Academy in Japan, where Kazunori Meguro and his wife, Yashio, are both professors of percussion.  Since 1998 Kazunori and I  have become good friends.  I have visited Showa six times and Professor Meguro has visited the Eastman School of Music three times, including a short visit last week, during which he attended a percussion studio class, and presented a masterclass for the Eastman percussion department, headed by Professor Michael Burritt.  In the September 20 masterclass five Eastman percussion students performed on timpani, marimba and snare drum.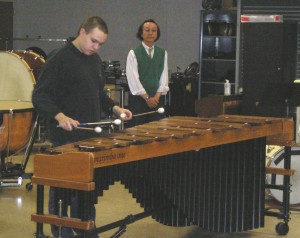 Professor Meguro graduated from the Kunitachi College of Music with degrees in Music Education and Percussion.  From 1980 to 1982 he was timpanist and percussionist with The Tokyo City Philharmonic Orchestra, and from 1982 to 1992 he was a percussionist and timpanist with The NHK (Japan Broadcasting) Symphony Orchestra.  He has been a member of Percussion Group 72.  Professor Meguro has written a percussion method book and composed for percussion ensemble.  Since 1992, he has also held the position of Supervisor at the Asahi Newstar Television News Service.
While in Rochester Professor Meguro, along with Professor Burritt and myself, worked on finalizing the details of a planned percussion student exchange between the Eastman School and the Showa Academy.  This exciting project promises to be a wonderful opportunity for students at both schools to expand upon their common interests in percussion performance.
Traveling to Eastman along with Professor Meguro was Tomomi Yamashita, a Showa graduate student in percussion.  On September 21, Ms. Yamashita had an inspiring studio lesson with Professor Burritt at Eastman.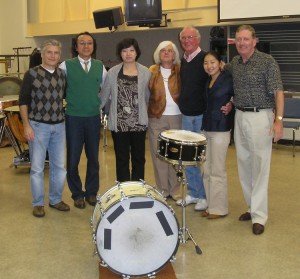 Also traveling to Rochester from Japan on September 20 was Mr. Suguru Agata, the Secretary General of the Japan Electronic Keyboard Society, and a music education advisor to the Showa Academy.  During his visit, he observed keyboard classes at Eastman and on September 23 he presented a clinic for music educators on the subject of "Electronic Keyboard Ensembles in Japan".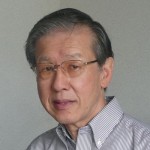 On one of my stays at Showa I had the pleasure of attending an Electornic Keyboard Ensemble (8 players) performance in which the Creston "Concertino for Marimba" was performed.  A Showa senior-year percussion student was the featured soloist, accompanied by the keyboard ensemble playing the orchestra parts using sampled sounds or orchestra instruments.  I found the accompaniment, which was with a conductor, to be very convincing and a great alternative to the standard piano accompaniment.