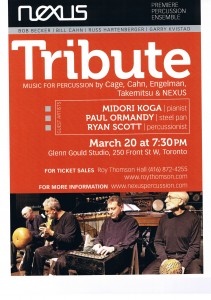 Don't forget that this Saturday evening at 7:30 p.m. NEXUS is performing in the handsome Glenn Gould Studio Theatre in downtown Toronto in the CBC Broadcasting building. ( Buy tickets. Address: 250 Front Street West, Toronto, ON). If you are a student, show your ID and get in for a mere $10 – a great deal, to hear one of the best percussion ensembles in the world!  The concert is entitled Tribute. You will have the chance to hear the world premiere of Bill Cahn's "R.E.member-ing", written in tribute to NEXUS founding member Robin Engelman who recently stepped down from NEXUS. Also you will hear the Canadian premiere of "Handmade Proverbs" by Toru Takemitsu. The proverbs have intriguing titles such as The Three Bonzes, and Cinderella's Misfortune. They have been arranged by Robin, and NEXUS will also be playing Robin's pieces "Remembrance" and "Lullaby for Esme" written for his granddaughter, and featuring our guest Paul Ormandy playing the steel pan solo.
Pianist Midori Koga will be performing with NEXUS for John Cage's "Credo in US". Cage wrote "Credo…" as music for a dance. Listen for the cowboy tune, a blues number, and a boogie-woogie riff! The piece is scored for muted gongs, tin cans, an electric buzzer and tom-toms, while another performer plays a radio tuned to a classical music station. It's an entertaining piece!
Percussionist Ryan Scott will be helping out on the incredibly stirring "Ancient Military Aires" – they have fabulous names like "The Downfall of Paris", and "Hell on the Wabash" – certain to get your heart stirring.
We look forward to seeing you at the Glenn Gould! (But if Saturday is totally out of the question, then how about Friday night? Come over to St Catharines, Ontario to Brock University's Centre for the Arts on the 19th. You will hear Ryan, Paul and Midori performing with NEXUS, with much the same repertoire – without Bill's R.E.member-ing – but the added bonus of Bob Becker's wonderful "Whispering Medley".)