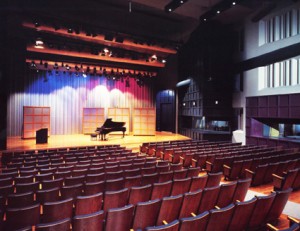 March 19 and 20 bring two opportunities to hear NEXUS in concert. Our friends in Niagara Falls, Buffalo, Fort Erie, and upper New York State can come to Brock University in St Catharines, Ontario, in the heart of Niagara wine country, and our fans in Southern and Central Ontario can come to the handsome Glenn Gould Theatre in downtown Toronto in the Canadian Broadcasting Centre. Or come to both!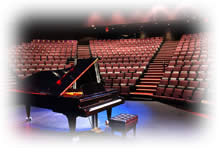 Brock University decided to end their Encore! Series season with a bang! Literally! NEXUS completes for Brock a season that has featured George Crumb's Voice of the Whale, violin/piano duo Maureen Yuen and Karin Di Bella, the voice of Giovanna Carini, and the jazz sounds of the Steve Koven Trio. An interesting mix!  NEXUS' Niagara concert will take place on March 19th at 7:30 p.m. at the University's Centre for the Arts in the Sean O'Sullivan Theatre – a fitting setting during the week of St. Patrick! (Purchase tickets here).
NEXUS' Toronto concert takes place in the Glenn Gould Studio with its lovely acoustics, on March 20th at 7:30. (Purchase tickets here). The Glenn Gould Studio, called "the jewel of the Canadian Broadcasting Centre",  is located on its main floor at 250 Front St. West in Toronto's theatre district. Spend your Saturday shopping downtown and finish up with NEXUS in the evening!
Both the Niagara and the Toronto concerts will feature guest artist Midori Koga on piano, and Paul Ormandy and Ryan Scott as guest percussionists. Not only that, but you will have the chance to hear Canadian and world premieres of some great new pieces written by NEXUS, as well as some lovely pieces by Takemitsu and Robin Engelman. We look forward to seeing you there!