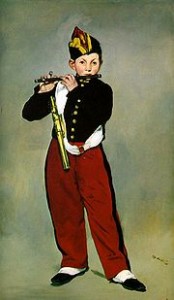 If you have been intrigued by Robin Engelman's postings about Ruffs, Drags, and Poing Strokes, you'll be interested in his workshop concerning the Music for Drums and Fifes. What makes Robin's workshop particularly valuable is that participants can experience history by actually playing replicas of 16th to 19th century rope and rod tensioned field drums. The tunes and drum beatings that Robin explores emerge from under the umbrella of military music. Soldiers from the 14th to the mid- 19th centuries adapted familiar music from folk, theatre and classical sources, for fifes and drums, and used them for marching, maneuvering, and entertainment. (Its piercing sound, yet small size and light weight, made the fife an ideal instrument to survive a military life.)
There were particular tunes and drum beatings that regulated the daily duties of encamped soldiers-get wood, water, attend church &c- and thus, in aggregation, were known as the "Camp Duty". The fife portions of the music can be played upon any treble instruments. You can see a fife-and-drum corps in performance here.
The military tradition of fife-and-drum music is carried on by Fife and Drum Corps in the North-East, South-East and mid-western United States as well as Forts George, Henry and York in Ontario and forts in Quebec and the eastern provinces of Canada. In Ivoryton, Connecticut in the USA, there is a museum run by a federation of corps called The Company of Fifers and Drummers.  In the African-American tradition, fife-and-drum music was one of the many sources of Blues music, and fife and drum corps such as Othar Turner, remain active today in the southern United States.  Fife and drum are also used in numerous European countries, especially in Basel, Switzerland (Fastnacht), the South of France in Languedoc and the county of Nice, and in the province of Ulster in Northern Ireland where it is played as an accompaniment to the lambeg drum.