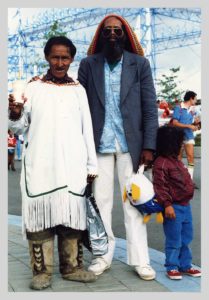 #NEXUSat50    1986    WORLD DRUMS at EXPO 86    The seeds of John Wyre's world drum dream had begun to sprout as early as 1961 during his 3-month tour with the Eastman Philharmonia. In 1984 NEXUS began working with John Cripton producer of the 1984 Toronto International Festival which included the 2-performance "Supercussion" featuring a mere 17 drummers, documented on film by John McGreevy. Cripton alerted Ann Farris, executive producer of cultural programs for Expo 86, and World Drums evolved into a global undertaking that would culminate in a 2-week event in Vancouver Canada. Sal Ferreras came on board as assistant director to John. Maps were scrutinized, lists made, research done, letters sent, journeys planned. John has an inspiring section in his book "Touched By Sound" about his exotic travels: Istanbul, Yugoslavia, Islamabad, Lahore, Karachi, Cairo…."Everywhere I traveled I told people I was looking for the greatest drummers in the world. There was no criteria, except that they move me." He learned about people by word of mouth, as in the Caribbean. But the travel took its toll and John gave the African trip to Bob Becker who visited Senegal, the Ivory Coast and Kenya. Our great friend Abraham Adzenyah was a super source on west Africa as was Vancouverite Themba Tana for south Africa. But in time, John " realized I had to say no to some people. That was heavy, very heavy, and in fact was the greatest challenge." Eventually, 117 drummers, 20 groups from 20 different cultures came to Expo 86. The musicians played in or outside their home pavilion and on smaller performance stages around the Expo site. We would all come together for the Finale – a challenge that John mused upon night and day for months.  For 10 days, NEXUS appeared daily at the Canadian Pavilion, each time with a different drumming group or individual. A nightly special concert at the 1500 seat Xerox Theatre would showcase one night all the African ensembles combined; or another night an Indian mrdangam master playing with the Pakistani Naqara group (which was a unique experience for all of them); and so on. We will share with you this week some wonderful candid photos of the event. Attached are shots of John Wyre and Sal Ferreras at the finale rehearsal, and a couple of quintessential Expo shots of cultures juxtaposed: A Korean dancer/drummer at the stage door, and Caribbean and Inuit drummers shopping for souvenirs (the latter found on the Greater Vancouver Parks site regarding Expo86). As John wrote, "Music is the process which allows us to bridge gaps between ourselves. It can carry us over chasms to the point where we see ourselves as the same. Music is a very powerful tool."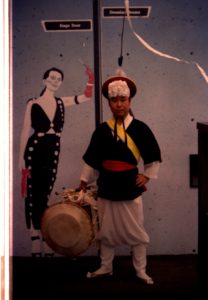 #NEXUSat50 1986 WORLD DRUMS REHEARSAL PHOTOS – EXPO 86, VANCOUVER CANADA We are very lucky to have a collection of photos taken by Barry Burns who was on the Production Team for Expo 86 entertainment. Here are photos of the full stage rehearsal for the finale – John Wyre working on the placements for each group, and working hard to bring the general noise level down to somewhere less than deafening. You can see there were camera-men in the mix, as well sound technicians preparing for the sound check. John pointed out in an interview that these groups were usually divided from one another by "borders, politics and protocol…Some didn't read music, others needed interpreters, and many were more interested in exchanging information between themselves than concentrating on their positions within a large performing body." John was seeking a common language, "a thread of fusion where cultures weave in and out of each other."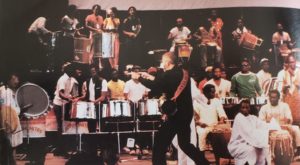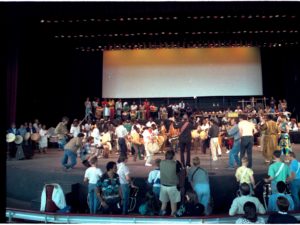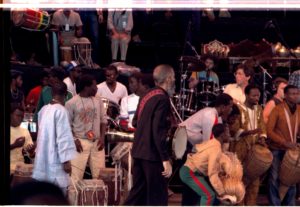 #NEXUSat50  Looking for that WORLD DRUMS footage? The 1-hour documentary is available from Bullfrog Films here. You can see a 3 minute clip on YouTube here. The film was directed by Niv Fichman, produced by Rhombus Media with the support of the National FiIm Board of Canada.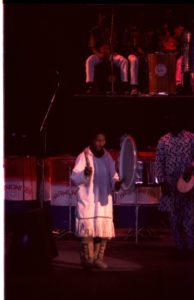 #NEXUSat50    1986   WORLD DRUMS – A QUIET MOMENT    Our manager Peggy Feltmate was at Expo 86 as Assistant to the Producer of Cultural Programming for the Canadian Pavilion. That Producer was John Cripton who partnered with John Wyre to bring World Drums to many differing venues. She recalls that "John Wyre was adept at creating quiet moments in the midst of the groove and crescendos."  Here is one of those moments: a lone Inuit drummer enters Stage Right, playing his frame drum. He makes his way across the stage, drumming throughout, and exits Stage Left. "It was a wonderful moment."  Also pictured are the Dene Drummers, also from Canada's Northwest Territories. NEXUS performed with the Dene Drummers at the spectacular Canada Pavilion built with 5 gigantic sails. The Dene Nation is also known as the Athapaskan peoples. Read more: https://denenation.com/ ; More about the Canada Pavilion and other Expo86 sites: http://bobbea.com/expo-86/canada.html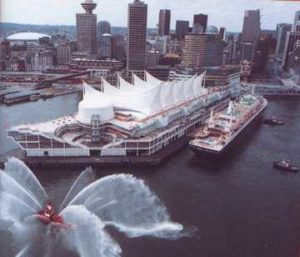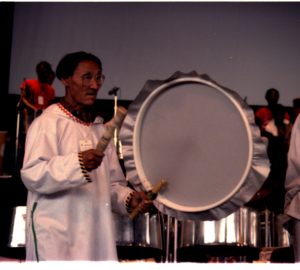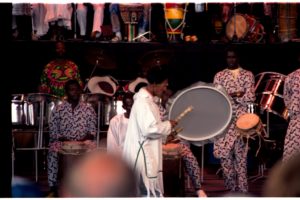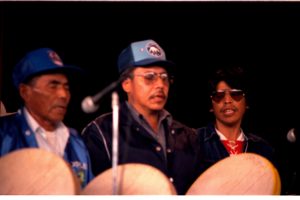 #NEXUSat50   1986   STEVE GADD AT WORLD DRUMS   John Wyre said in a 1987 interview with Percussioner International, "The only thing you can do when you hear Steve play drums is fall in love…And when you put a band of drummers together, what you need is a heavyweight drummer for that band and Steve is one of the greatest. He is a monster. He just kept it cooking. He is a tremendous heartbeat."  Here is a beautiful photo of John with Steve and with Abraham Adzinyah, taken by Jean Donelson at Expo 86. And a wonderful shot of Steve in ACTION at the finale, taken by Barry Burns. (The Percussioner article is in Vol.2 No.1 November 1987)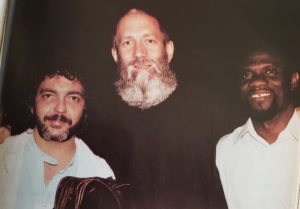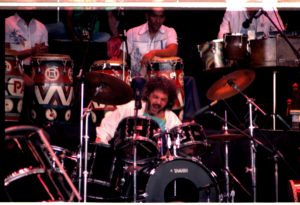 #NEXUSat50   1986   CARIBBEAN ARTISTS AT WORLD DRUMS    As John Wyre toured the Caribbean, he "heard from absolutely everybody that he had to have Los Papines from Havana." You will see the Cuban group here playing their distinctive drums. Lapo Kabwit from St Lucia is the large group playing red/yellow/green drums – some rehearsal shots as well as a finale shot. Also from St Lucia came Ken Isles who has recently (2014) been recognized for his great contribution to pan music by the Vincentian Association of Artists, Writers and Producers and who has represented St Vincent and the Grenadines (SVG) all over the world. The black and white photo is the Harmonites International Steel Orchestra from Antigua who were under the leadership of the renowned Fitzroy "Champ" Martin at that time. To see them in action, check out the footage in the World Drums trailer at  https://www.youtube.com/watch?v=hTyy1JdkNnE . They made a big impression at Expo 86. At the World Drums finale, they played Bach beautifully.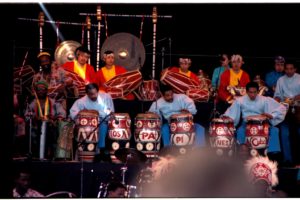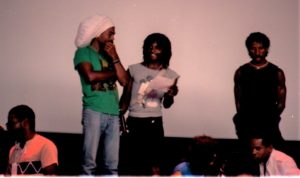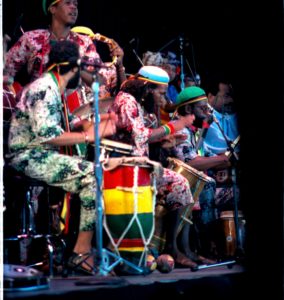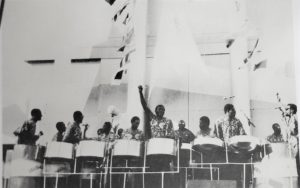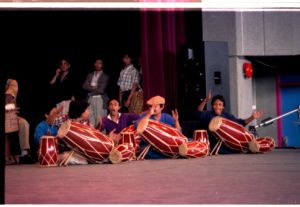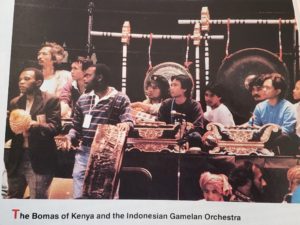 #NEXUSat50   1986   INDONESIA ARTISTS AT WORLD DRUMS    A number of performers came from Indonesia – from Bali, Java, Sumatra. They represented 5 different cultures.  From the Percussioner International article, Nov'87: "They created a new drum piece especially for the two weeks of the drum festival which combined the different gamelan and drum styles and proved to be a beautiful experience for their audience and for themselves as well since it is not done in Indonesia."  The captioned photo was taken by Jean Donelson and you can see the Bomas of Kenya at the lower left of that photo as well as the gamelan artists. My personal favorite is the rehearsal shot of the Indonesian drummers – youthful and vibrant.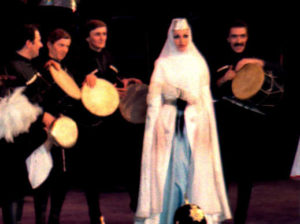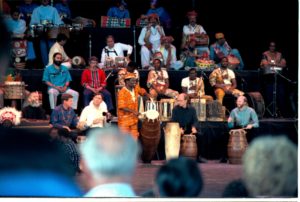 #NEXUSat50   1986   USSR, USA and NEXUS at WORLD DRUMS   The beautiful woman in white sailed across the stage as if on ice – you couldn't see her feet – it was ethereal.  That group was the Oreri Georgian Drummers and Dancers of the (then) USSR. John Wyre had toured the Soviet Union way back in 1962 "and heard a group from the Georgian Republic called the Georgian Dancers…He never forgot them and tried to get them and it worked out. Though they were different players than when he heard them the first time, 'it was a nice cycle that was completed,' states Wyre." (Percussioner International, Nov'87). Also pictured is Abraham Adzenyah performing with NEXUS with Glen Velez, John Bergamo and Themba Tana looking on. (photos: Barry Burns).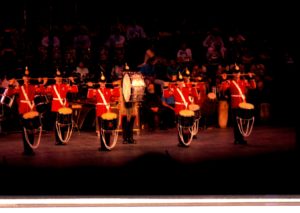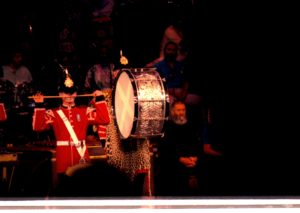 #NEXUSat50    1986    GREAT BRITAIN at WORLD DRUMS    Another of those "moments" created by John Wyre: The Queen's Lancashire Regiment Drum Corps.  You could hear the drumming in the distance. They entered, drumming. They drummed in amazing precision. They exited, drumming. You could hear the sound fading, off left.
#NEXUSat50    BOMAS of KENYA at WORLD DRUMS     Three action shots from the finale. These 4 performers had such a good time throughout the Expo86 experience, and their performances reflected that. NEXUS performed with them at the Canada Pavilion too. Looking on is Pandit Sharda Sahai (left), the Naqara and Dholak Drummers from Pakistan, and Themba Tana (right). In the foreground you will recognize Abraham Adzenyah, Russell Hartenberger and Bob Becker.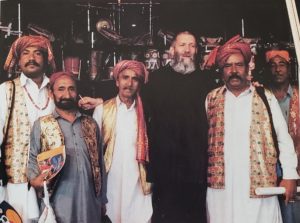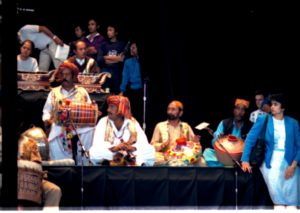 #NEXUSat50    PAKISTAN at WORLD DRUMS    Pakistan was represented by the Naqara and Dholak Drummers. Their costuming was majestic. They came to the rehearsal in full costume as compared to most of the other performers in street clothes. Some of the performers at World Drums had come from small villages and had never been on a plane, nor seen an escalator….What a grand adventure – for them, AND for us! (photos: Barry Burns and Jean Donelson)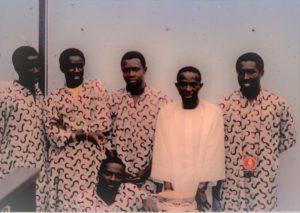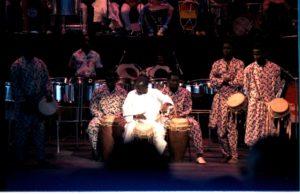 #NEXUSat50    THE LION OF SENEGAL at WORLD DRUMS     Doudou Ndiaye Rose, a tiny vigorous man, was a force to be reckoned with. That was evident to all of us in 1986. The night before the final Expo86 concert during rehearsal, Doudou came to John Wyre and thanked him for bringing Africa together for the first time. "I had no idea that that had never happened before but it was the first time he had played with east African drummers and south African drummers and drummers from the Ivory Coast and Ghana."  As a child, despite his father's warnings, Doudou had been seduced by the African drumming around him. He worked as a plumber for a number of years, but when he chose a life of music, he and his father "did not even shake hands for 7 years."  He played many types of drum but was recognized as the modern master of the sabra, which he and his small ensemble played at World Drums. By the time of his death in 2015 at the age of 85, he had fathered 39 children with 4 wives, had been declared a "living human treasure" by the UN cultural agency, had invented numerous new riffs while studying the traditional ones, had found a way to catalogue them all, had invented a new version of the sabra, had founded Senegal's first percussion school, and established the first group of women drummers (Les Rosettes, all his own daughters and granddaughters). Senegalese drumming is many-layered, tremendously complex. Regarding his own studies, he said, "Every day, the tam-tams played for marriages, baptisms and circumcisions… I met the elders so that they could teach me the very precise language of drums that everybody recognized then: how to announce a bush fire, that a snake has bitten someone and what kind of snake, that a woman who has just got married has gone to the conjugal home and that the husband is happy with her…I never wanted to play blindly." Two years after Expo86, Doudou made his New York debut with an orchestra of 35 musicians, all his children or their spouses. The New York Times review spoke of the "fast-changing sequences that would tax a Western percussionist's memory to the limit." He went on to appear onstage or on the bill with Miles Davis, Dizzy Gillespie, the Rolling Stones and Peter Gabriel!  (Thanks to Barry Burns). Read more in the Chicago Tribune: https://www.chicagotribune.com/news/ct-xpm-2000-02-07-0002070137-story.html  His lengthy New York Times obituary is here: https://www.nytimes.com/2015/08/24/arts/music/doudou-ndiaye-rose-senegalese-drummer-and-human-treasure-dies-at-85.html   The other types of drums that Doudou played were saourouba, assicot, bougarabou, meung meung, lambe, n'der, gorom babass, and khine.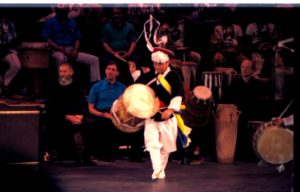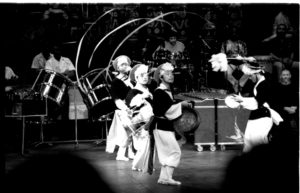 #NEXUSat50   1986     KOREA at WORLD DRUMS   Another joyous energized group was the Samul-Nori drummer/dancers from Korea. They had appeared in Supercussion with us in Toronto '84, and they would return for other World Drums after Expo86 as well. They preserve an ancient tradition of Korean folk music and dance in their performances. The ensemble was led by Kim Duk Soo. The word samul means four objects and nori means play. The four traditional instruments are a small and large gong, an hourglass drum and a barrel drum. The dancing and drumming is constant and they were able to keep their long hat ribbons twirling throughout.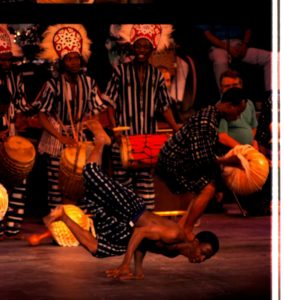 #NEXUSat50   1986   IVORY COAST at WORLD DRUMS  Les Compagnons d'Akati  joined us from Cote d'Ivoire in Africa. Here you will see them performing in the finale. Their athleticism was remarkable, and their playing infectious.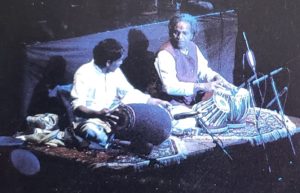 #NEXUSat50   1986   TRICHY and SHARDA   Hearing Trichy Sankaran and Sharda Sahai perform together was electrifying. They both joined us in several other World Drums events, too. Russell and Bob studied tabla with Sharda Sahai at Wesleyan University. Russell began in 1970, and Bob arrived in 1971. Bob says, "When NEXUS did the residency at Wesleyan University in 1973, we tried to interact with as many of the amazing visiting artists there as we could. Although we didn't perform a concert together with Sharda at that time, we did improvise together in a free way one evening. When John Wyre organized his first big event, Supercussion, in Toronto in 1984 he invited Sharda to take part. During the 1980s Sharda came to Toronto every summer to lead a tabla training course, and we took advantage of his presence when possible. He learned the solo part to my piece Palta, which gave us a great vehicle to perform together. We played it in Toronto in 1983 and again in 1985. The last time we played Palta in the tabla solo version was with Sharda at the Kennedy Center in Washington, DC during PASIC in 1986."  At Expo 86, both Trichy and Sharda performed with us on the Canada Pavilion stage, too. Trichy came to Toronto in 1971 to teach at York University so we have known him since our earliest days. Having Trichy Sankaran, a master of the mridangam and a "doyen among the percussionists of India", and Sharda Sahai, one of the great table virtuosos, in concert together, was an unforgettable experience.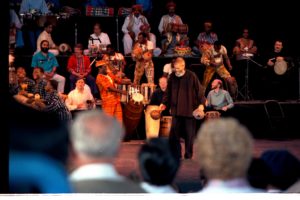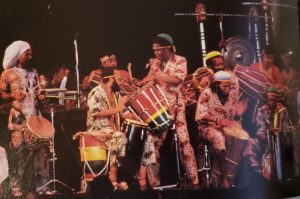 #NEXUSat50    1986    THE FINALE OF THE FINALE   World Drums, Expo86.    Here we all are, in full flight!  John Wyre said, "It was just unbelievable…dancing and playing together – everybody just having such a positive thing with all those countries working together. It was so beautiful. My spine tingles when I think about it. I didn't sleep for about a week afterwards."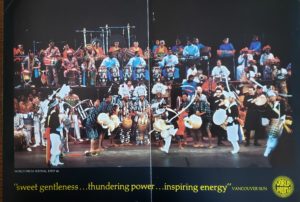 By now, you should be able to name them all: The gamelan artists across the full top tier. In front of them, left to right, Lapo Kabwit and Ken Isles (St Lucia), Los Papines (Cuba), Trichy Sankaran and Sharda Sahai (India/Canada, India), Naqara and Dholak Drummers (Pakistan). Centre left to right, Steve Gadd (USA), Themba Tana (South Africa/Canada), Glen Velez and John Bergamo (USA), Bomas of Kenya far right. On the stage floor left to right, The Harmonites (Antigua), and in front of them Doudou Rose (Senegal); centre Les Compagnons d'Akati (Cote d'Ivoire); NEXUS with the Oreri Georgian Drummers in front of them (USSR), and a lot of ribbon-twirling from Samul-Nori  in front of all. keeping it together, in the centre of it all, John Wyre. (Photos: Jurgen Vogt and Barry Burns)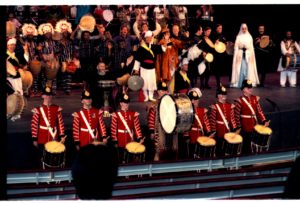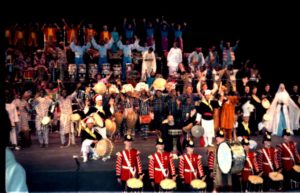 #NEXUSat50    1986    THE BOWS – World Drums, Expo86    The exhilaration is palpable in these photos. Robin shouting, Steve Gadd cheering, fist pumps, everyone waving, wide grins. Even one of the disciplined Brits is smiling. The audience was as loud (maybe louder!) than the 200 drummers! It was an extraordinary moment. The Vancouver Sun summed it up: "This weekend's finale to the World Drum Festival best validated Expo's rhetoric about international understanding and cooperation. It was, literally, a world in motion, a world in touch…one of those one-of-a-kind memories that this one-of-a-kind world fair is going to be best remembered for."  (Photos:  Jean Donelson and Barry Burns)
#NEXUSat50   1986    WORLD DRUMS – THOUGHTS FROM JOHN WYRE    In looking back at the World Drums events, John has written, "Collaborating with more than 500 artists has provided opportunities to experience first hand the extraordinary diversity that exists in the art of drumming and to discover those things that link us together along this ancient path called music. There are those who would say we should stay within our own traditions and be consistent and loyal to our own roots and cultural ways. Tradition can be a cruel padlock, and consistency demands that we stay as ignorant today as we were last week. Our roots are in this vast universe that includes, supports, sustains, inspires and transforms us." John's idea "was to show the world that many different cultures can work together with great joy. In this sense it was a success beyond my wildest dreams."