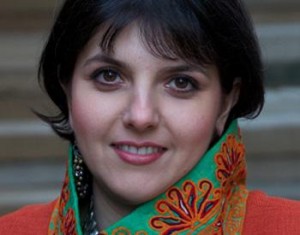 On June 13 NEXUS and the Iranian vocalist Sepideh Raissadat join forces in a unique concert performance at the Open Ears Festival (Registry Theatre, Kitchener, ON). Russell Hartenberger has created several very special new arrangements for NEXUS and voice that will receive their premiere at the concert.
 Sepideh was born in Tehran, and began studying Persian classical music at the age of 9 with the famous Iranian Diva Parissa, and continued with two renowned masters Parviz Meshkatian and Mohammad-Reza Lotfi. Her first album was recorded when she was 18. As well as singing, Sepideh also plays the setar, a Persian form of the lute. She was the first female vocalist to have a solo public performance in Iran after the 1979 revolution (Niavaran concert hall, 1999).
Interestingly, she took her BA in painting and moved to Italy to continue her education, graduating in Musicology/Ethnomusicology from the University of Bolgna. While in Italy, she was invited by the Vatican and different Italian TV channels and performed as a soloist with one of the oldest Italian choirs, as well as performing with well known Italian musicians such as Franco Battiato, Andrea Parodi, etc. She has continued her academic pursuits, researching the pre-Islamic ancient Persian music, obtaining her MA at the University of Toronto, and focusing now on Sassanid music as she completes her PhD in Ethnomusicology here in Toronto.
Sepideh has performed in Europe and North America and as well as performing at the Vatican has also performed for UNESCO and the BBC. Her latest album   "Tale of Friendship" was released in 2011, preceded by     "14 Cheerful Pieces" released in France in 2010 and featuring compositions by Reza Ghassemi. One of the suites that Russell has arranged for the Open Ears concert is a collection of Ghassemi compositions including "Locks of the Beloved's Hair" and "A Cup of Wine to My Rescue – from your intoxicating glance" .
 Do join us for this unique concert with the beautiful talent of Sepideh Raissadat.