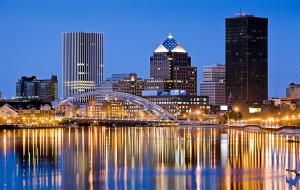 The NEXUS members are converging on Rochester for this week's performances of Takemitsu's "From me flows what you call Time…"  NEXUS has played this piece all over the world, and I want to share just a few of the press comments about this phenomenal work:
"Any more picturesque offering from the BBC Proms is hardly imaginable" –  The Financial Times
"A work of mesmerizing beauty" – The Washington Post
"an exotic showpiece…casts a hypnotic spell…a strangely beautiful, lushly erotic work" –  Louisville Courier Journal
"Their unbelievable delicacy of feeling and rich expression were something just beyond my words" – Nihon Keizai Shinbun, Toyko Japan
"a masterful compositional expose and a delight for the ears… the sort of experience that confirms why we care about music (of any sort) in the first place: it confirms what it means to be human." Syracuse Post Standard
"35 minutes worth of extraordinary beauty" –     Birmingham Post, England
"NEXUS, for whom the percussion parts were originally composed (by Takemitsu), like the work of a fine tailor…phenomenal virtuosity" –  Tampere Aamulehti, Finland
"The timbre is so rich that the piece has a 3D quality…it opens up your ears to the possibilities of sound" –  Orange County Register
"engrossing, often haunting… (NEXUS)…created a vivid musical picture with its dazzling array of instruments" –    Los Angeles Times
"Percussion group fills the air with poetry" –  The Sacramento Bee headline
"Good things come in fives…kinetic, though still meditative, excitement" – The Times of London
"…the music's power as it reached through the audience and the entire hall. It was a sonic feast" –  Austin360
"It became a laid-back love-in between NEXUS [and] the BBC Symphony Orchestra"  –   The Guardian
"Takemitsu's unqualifiedly beautiful and evocative "From me flows what you call Time"…fascinating pre-concert talk…" –   Star-Ledger, Newark, NJ
Are you clicking over to the Box Office now? It really is a remarkable piece. Ryan Scott is joining NEXUS for the Thursday and Saturday performances with the Rochester Philharmonic Orchestra under the baton of guest conductor Maestro Peter Bay. Thursday's performance is at 7:30, and Saturday's is at 8:00. And don't forget the Pre-Concert Chat one hour before concert time on both days (free for all ticket-holders). Ryan and NEXUS and Maestro Bay performed this beautiful Takemitsu concerto with the Austin Symphony Orchestra a couple of years ago, and Ryan joined NEXUS in Japan and in Syracuse for performances, too. You can get more information and buy your Tickets here.
Having been written for a great hall's 100th anniversary (Carnegie), you couldn't ask for a more fitting or beautiful setting than the 90-year-old Kodak Hall in the Eastman Theatre. You can read more about this beauty on the NEXUS blog here.
But wait! There's more!  The programme will also feature Boulanger's "D'un matin de printemps", Ravel's "Menuet Antique" and "Le Tombeau de Couperin", and the premiere of a new work by Karen Tanaka entitled "Water of Life".  And May 9 will also be Music Educators Night and the RPO will honor local music teachers during the performance. Box office: (585) 454-2100. Address: 60 Gibbs Street. Venue phone: (585) 274-1100.      See you there!