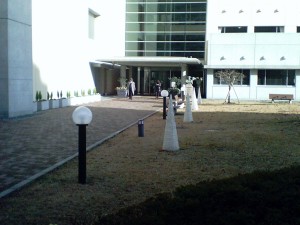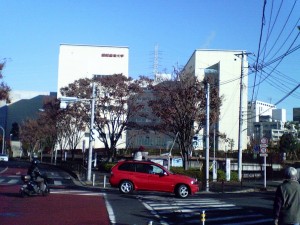 I have been visiting the Showa Academy of Music in Japan almost every year since 1998.  When NEXUS toured to Okinawa in 1997, I was introduced to Kazunori Meguro by Yoji Sadanari, who had studied at the University of Toronto in the 1970s, and who knew all of us in NEXUS.
When Kazunori ('Kaz') invited me to come to Showa for a 2-week teaching residency I accepted, having really no idea of what I would encounter  there, even as I got on the plane to embark on my trek to Atsugi, Japan where the campus was located in 1998.
This posting is being written from my hotel room in Kawasaki about halfway through my 2011 residency.  It's my 5th residency since the Academy moved from Atsugi to its brand new and fully equipped Kawasaki campus.  Getting to Kawasaki from Rochester involves a 90-minute flight to Detroit, a 90-minute layover in the business class lounge, and a 13-hour flight to Narita, during which there are two meals – dinner after takeoff and breakfast before landing – as well as movies  – this time "Midnight in Paris,"  "Friends with Benefits,"  and "Rise of the Planet of the Apes," – and a little time reading from a book I brought along, "The Swerve" about the ancient poet, Lucretius, and the reemergence in the year 1417 of his magnum opus, "On the Nature of Things" after a thousand years of lying dormant.
A little side story: as I took my seat in the business class section of the 747, I couldn't help but overhear a conversation going on just behind me.  An Asian businessman was chatting with an American businessman, and after a short while the subject turned to finances and taxes. At some point early into this subject the Asian businessman said something to the effect of, "I don't understand why the U.S. is so much against taxes for the public good," and at that point the conversation stopped and not another word was exchanged between these two men for the rest of the flight.
While enroute I noticed that this flight followed a course into Japan that was south of the Aleutians and well to the east away from the coast of Japan – maybe 200-miles or so – instead of over Alaska, Siberia and Hokkaido as in previous years.  I assume that the reason was to avoid flying near the damaged nuclear reactor at Fukushima.  My decision to make this trip was done with an understanding of the risk involved, though Ruth definitely had some misgivings about the leaking radiation.  Even though Kawasaki is to the southwest of Tokyo, and hundreds of miles from Fukushima, nevertheless it sits in a zone that has registered minimally elevated levels of ambient radiation.
The landing at Narita on Dec. 6 was during a fairly heavy rainfall, and as always in the past, Kaz met me at Narita in his Mercedes station wagon and we drove about 2-hours through Tokyo and Yokohama to the Hotel Molino in Kawasaki, right next to the Shin-Yuri Station of the Odakyu (train) line.  By the time we arrived  at the hotel it was 7 PM and the rain had subsided.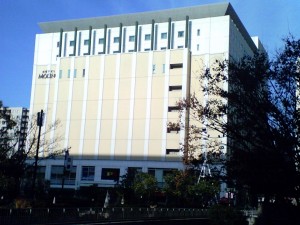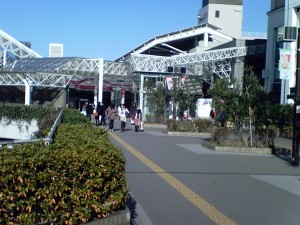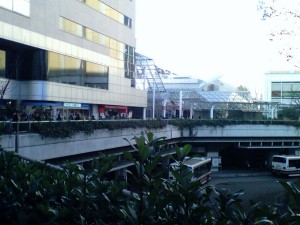 The hotel sits right on a plaza that includes a bus station, three major department stores, and a number of fast food restaurants.  The walk from the hotel to Showa Academy, about two blocks away, takes only 5-minutes.  As usual, I couldn't fight the jet lag and though I wanted to try to stay awake until 11 PM, I fell asleep at 10 PM, waking  up at 2:30 AM and reading a little more of  "Swerve" and then back to sleep until 7:15 AM.
The morning of the 7th was clear and sunny outside, so I did my power walk and along the way I got a hazy glance at the snowy top of Mt. Fuji in the distance.  The new Showa Academy is located in a very nice upscale middle-class neighborhood, with lots of retired people and some very attractive single homes and gardens, all of which makes for very pleasant morning walks.  I usually power walk for 40-minutes, covering about 3-miles in total.  I've found a good route with only one or two intersections, so I don't have to mark time at traffic lights.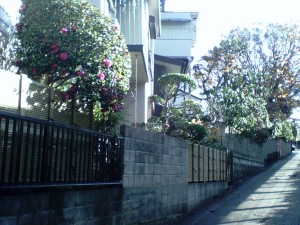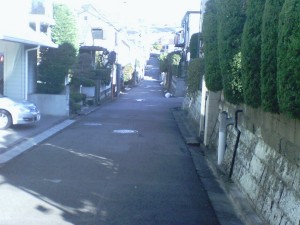 After my walk I usually stop at one of the fast food shops in Shin-Yuri Station to pick up carryout sushi or baked goods and have breakfast in my hotel room before preparing to start the day's work.
The first teaching day this time consisted of five individual lessons plus one Creative Music Making session.  The CMM session came unexpectedly to me, but in 40-minutes we managed to have two improvs (both were duos) recorded plus one playback for the 20 or so students in the room.  There wasn't enough time to get into the discussion of the process very deeply, let alone give everyone a chance to play, but it was what it was.  The percussion department numbers about 50 students, 30 of which study with Kaz and his wife, Yashio, and the remaining studying with Prof. Kojima and Ms. Satoko, who was a senior when I first visited Showa in 1998.
My first day of private lessons mostly involved repertoire I've heard in the past:
"Dance" by Simone Plé (French timp/multi-perc with piano accomp.)
"Concerto for Timpani" by William Kraft (timp with piano accomp.)
"Suite Ancienne" by Maurice Jarre (French timp/multi-perc with piano accomp.)
"Sonata for Marimba" by Pitfield (It's been decades since I last heard this.)
"The Messiah" by Handel (timp – in preparation for a  next weekend student orchestra concert)
It seemed to me that the ten freshmen this year are at a higher playing level than first-year classes I've heard in the past.  To be sure, there were still some instrument 'gremlins' (unwanted rattling sounds from metal-on-metal vibrations in the instruments or stands) to be dealt with, but there were noticeably fewer than I remember from past years.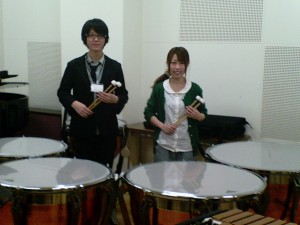 Most days I have lunch in the student cafeteria along with Ms. Iishi, the translator, and with Yashio, who observes most of my teaching and generally serves as my host.  The meals are inexpensive and fairly typical of institutional cuisine; the most popular dishes are soba, udon, various fish/meat/veggies over rice, and spaghetti.  I've also become attached to the iced-coffee that comes from one of the vending machines (instead of the free green tea).
At the end of the day, after a quick stop at my hotel room, I usually visit one of the supermarkets located in the basement of one of the department stores, where there is always a large variety of prepared carryout food – sushi, noodles, salads, bottled drinks, on and on.  After eating the dinner in my hotel room it's time to check emails and to send replies.
The second day, Thursday Dec. 8 was another long day.  I woke up at 5 AM, read a few more pages of "Swerve", and then organized the Philidor "March" for five timpanists in preparation for next week's concert; we'll be splitting phrases among the five players.   It was noticeably colder and overcast at 7:30 AM for my power walk.
The first lesson was at 10 AM.  At the end of that hour, Yashio asked if I'd like a coffee.  I said 'yes' and as she carried a tray with a few cups of coffee and cookies towards me, she tripped on something and fell into some chairs with a very loud crash as she and the china cups and coffee hit the floor.  Of course, Ms. Iishi, some students and I rushed over to her to see if she was OK, and though it took a few seconds for her to recover her composure enough to stand up, she was unhurt except for a nasty bruise on her right knee.  Thankfully, she didn't break any bones, and amazingly, none of the china cups broke.  After a quick visit to the school nurse, she was back smiling.  Whew!
The individual lessons this day were on:
"Myriads" by François Dupin (timp and vibes with piano accomp.)
"Kyakou" by François Dupin (timp with piano accomp.)
"Improvisations" by Marcel Mihalovich (timp with piano accomp.)
Bach Cello suite (Marimba solo)
Wilcoxin snare drum solo (rudimental style)
Zigfried Fink snare drum solo
"I Ching" by Per Norgards (multi-perc. unaccompanied)
"The Messiah" (timp)
The student playing "The Messiah" had some questions about the meaning of the music.  Of course, most of Japan is not Christian, so the question was not surprising.  What was something of a surprise (at least the first time I came to Japan in the month of December) was the extent to which the Japanese have embraced the Christmas holidays, with public light displays and even the whole catalog of Christmas songs, which can be heard everywhere – Gene Autry singing "Rudolph the Red-Nosed Reindeer," Vaughn Monroe singing "Noel," and all the rest.  As best as I could I summarized the story of "The Messiah," explaining that 'halleluia' is a nonsense word that expresses great joy and satisfaction, after which the translator compared it to "Bonsai, Bonsai!." (I chuckled at this comparison.)  The next question was "what does 'king of kings' mean?" . . . and so the lesson went.
After lunch there was a rehearsal of the African music for next Sunday's concert.  I'm having the students prepare my highly-unauthentic version of "Agbekor" using available tom-toms, congas, bongos, shakers, and djembes.  The large ensemble consists of about 18 first and second year students, and fortunately, they learned their patterns pretty quickly by ear.
I also started taking photos during the day.  Increasingly each year, there are more of the alums from prior years dropping by to say 'hi.'.  Most are either teaching in some way – music therapy, grade school, etc. – or working in offices and playing a little on the side in community ensembles.
On Friday the 9th there were snow flurries in the morning, so I skipped the morning walk.  I had been able to sleep a little later until 5:30 AM, so I read some more and did some tweaking of the Philidor arrangement before going over to Showa at 9 AM to practice briefly on timpani.  The percussion department at Showa is very well equipped with five excellent sets of timpani – Adams and Aehnelt – of professional quality.  The four Aehnelts have very good calfskin heads, and it's always great to be reminded of the calfskin sound.  The rehearsal of the Philidor started at 10 AM and the arrangement worked just fine.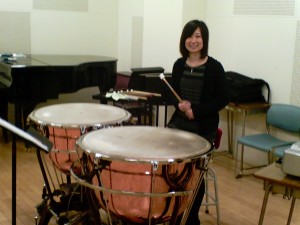 After the rehearsal there were two timpani lessons on the "Concerto" by Werner Thárichen, and in both lessons the main issues were clear starts to each note in the legato-roll passages and controlled dampening.
Lunch was at 1 PM, and since that's also the time when the student cafeteria is most crowded, we (me and Ms. Iishi, the interpreter) walked next door (it had become sunny outside) to "il Campiello", a gelato cafe, which also has a light lunch menu.  We both had spaghetti marinara with sausage and Brie.
The afternoon consisted of 2 more lessons – one marimba lesson on the Bach D-minor Fugue, and then one lesson on "Toccata" by Anders Koppel for marimba and vibes, a really good piece.  It was played by 2 grad students, Ayaka and Erika, and they played great – a note-perfect 11-minute piece with lots of nuance and style.  I had nothing to say that would add anything to their playing.
Afterwards, at 4:30 I was escorted to an English language class – the same one I visited last year.  There was an hour-long conversation with four students – one a business liaison from a Brazilian company, another a liaison from a Philippines company, another a Japanese composer who just returned from living in Ireland for 9-months, and the fourth a Showa grad student.  The session was video taped.  I was moved by their expressed appreciation for my visit, given the nuclear disaster that Japan is still dealing with.  I asked them about how they each experienced the situation, and for the most part they all got by with resignation, especially during the electricity rationing in what was a very hot summer.
Because I had a big lunch I skipped dinner and instead went shopping, trying to find a nice sake glass as a gift for Seichiro Sadinari (Yoji's brother and the retired timpanist of the Tokyo City Orchestra) to add to his collection when I visit his home again this year for dinner on Monday, but I didn't see anything in the department stores, and there are really no small artisan shops in the Shin-Yuri area. Then fortuitously, later in the evening I received an email from Kaz indicating that in Yokohama, where he lives, he had found some nice sake glasses for me which he would bring in the morning. Saved!
On Sat. Dec. 10 I woke up at 4 AM, read a little and went back to sleep until 7 AM . It was a crisp, clear, sunny morning – perfect for my walk and for a clear view of snowcapped Mt. Fuji.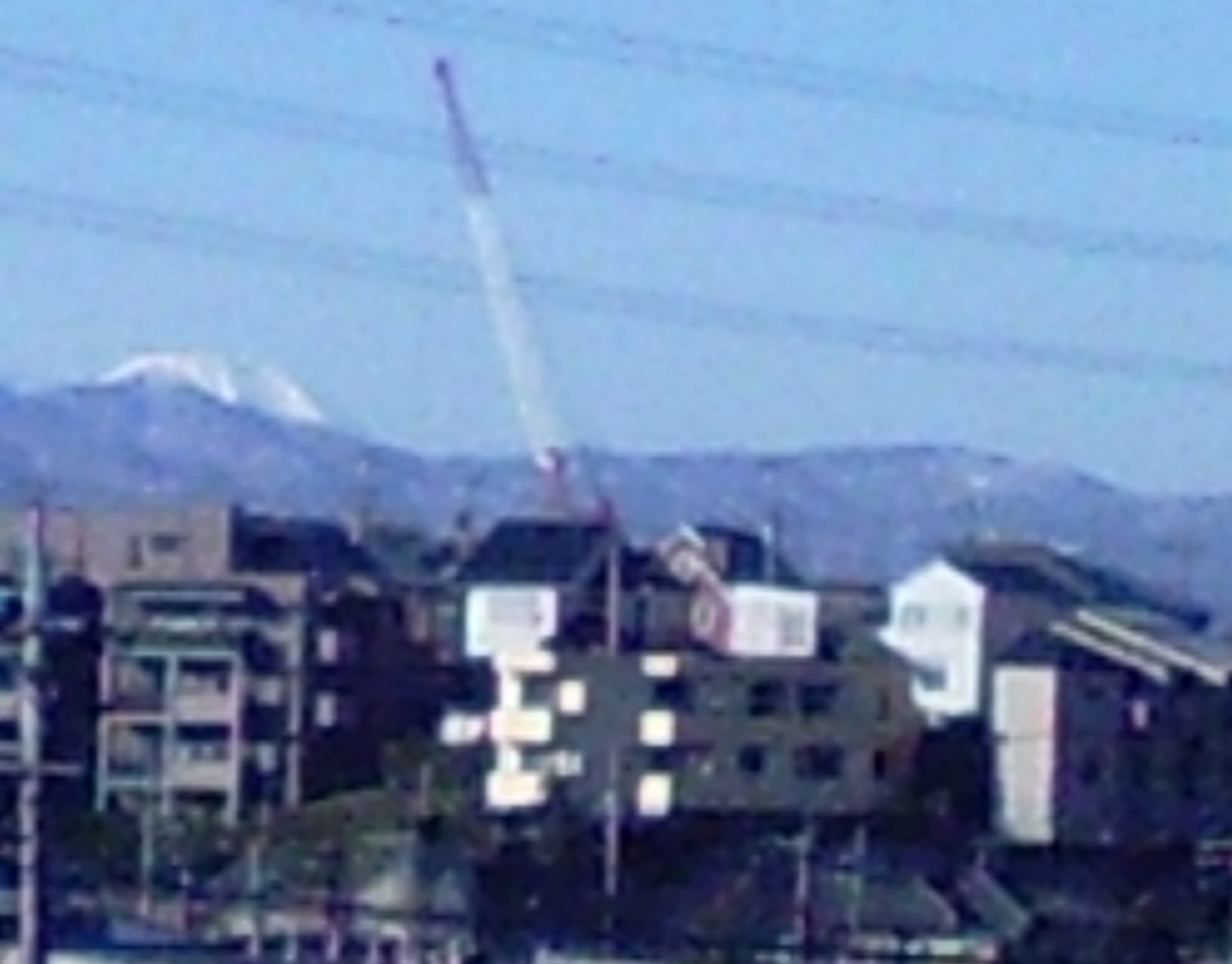 After my walk I was basically free to relax and write all day until a 4 PM rehearsal of "Agbekor" followed by a rehearsal of the freshmen handbell (technically, handtube) ensemble playing an arrangement of "Silent Night" that they'll perform on next week's gala percussion concert in the school's main opera house, Theatro Giglio.  At 6 PM there was another rehearsal of the entire percussion department along with four electronic organs playing Kaz's arrangement of the 4th movement of "La Noche de Los Mayas" composed in 1939 by Sylvestres Revueltas.  It's an intense, powerful, almost minimalist work, originally scored for small orchestra and 12 percussionists on standard orchestral percussion instruments with a few Mexican folk percussion instruments added in.  Kaz's arrangement is for eight 5.0 marimbas, two vibraphones, two xylophones, one glockenspiel, the twelve aforementioned percussion parts and the five electronic organs using excellent sampled orchestra sounds.  The music certainly has the intensity of a frenzied pagan ritual.
After the rehearsals Kaz gave me the sake glasses for Sadanari, and back at the hotel for the night I ate another department store basement carryout dinner.
Tomorrow morning I'll have to check out of the hotel for one night and go to another hotel near Kaz's home – the Hotel Monterey Yokohama because the Molino Hotel had scheduled a sold-out event (as it did last year), so I'll have to pack up everything to take with me, and I'll be returning to the Hotel Molino on Monday night.  My second week will include more lessons and rehearsals in preparation for the big percussion gala concert on Saturday Dec. 18.