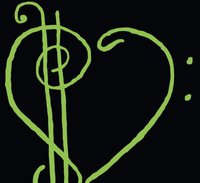 NEXUS will From me flows what you call Time, Reich's crowd-pleasing Music for Pieces of Wood, and Sibelius' Symphony No 2 in D major, Op 43.
The Takemitsu piece was written specifically for NEXUS at Carnegie Hall. Reviewers have called it a 'strangely beautiful, lushly erotic work", played on "a dazzling array of instruments" including oversized wind chimes hung in the hall and played by NEXUS using long ribbon-banners. "Engrossing", "haunting", "a work of mesmerizing beauty" are the kinds of descriptions that NEXUS' performance of this work has garnered from around the world. In fact, they performed the piece in Syracuse before, back in 2002, and the Syracuse Post Standard at that time called it "a delight for the ears" and "the sort of expeirience that confims why we care about music in the first place. It confirms what it means to be human." High praise indeed. It was also the best-attended of their Classics performances that year. No wonder NEXUS has been invited back!
The Syracuse Symphony has hit a rough patch this year and we were all concerned for awhile that the 50 year old orchestra would have to close its doors. They have kicked off a Keep The Music Playing campaign, and there has been an extraordinary outpouring of support for the orchestra from Central New York. The Symphony was able to announce just last week that in only ten days they had received almost 1400 donations to the tune of $473,787! Fundraisers have been imaginative and fun, such as the instrument petting zoo for little concert goers, and pubs, clubs, and even tattoo parlours have gotten into the act! Yes, you read that right!
We know that playing in a community that is this appreciative, tight-knit and supportive is going to be a GREAT experience. Syracuse, here we come!
If you wish to make a donation to the Syracuse Symphony, you can find their enthusiastic and upbeat page on Facebook, or you can click HERE.  And, do, please, come to the concerts!
If you have any connections with the the State University of New York at Oswego – alumni, emeriti, parents – you can check on their discount offer for the evening of February 25th, the 'SUNY Oswego Night at the Symphony'