MARLBORO MUSIC FESTIVAL – 60th SEASON 2010
The NEXUS Connection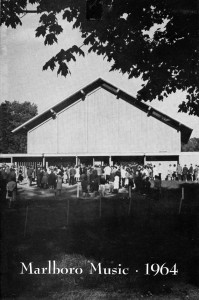 1964
Little did I know in 1964, my first summer after high school, that the telephone call I received from my friend Lee Gurst would be a pivotal event in my life.  Lee, who had also just graduated from high school near Philadelphia was calling to ask if I'd like to perform Stravinsky's "Les Noces" in Vermont, and after being told that the other percussionists would be Michael Bookspan (Philadelphia Orchestra), Matthew Hopkins and Joseph Mauro (both Temple Univ. students), and John Wyre (just graduated from the Eastman School) I said "yes."  The fact that that the conductor would be Leon Kirchner added to the sense of excitement.
The drive from Philadelphia to Marlboro, Vermont was a long one in Joe Mauro's car in those 55-miles-per-hour days.  The winding unpaved roads on which our car climbed into the Green Mountains of Vermont was a new and exciting away-from-home experience for me.  In the Stravinsky I would be playing the "Caisse claire sans timbre" and "Tambour sans timbre" parts, while Mr. Bookspan would play the xylophone part, Lee the snare drum, and Matt the bass drum/cymbal part.  Significantly, it was the first time ever for me to perform with John Wyre, my future colleague in NEXUS, though I had seen him playing timpani in the All-Philadelphia Senior High School Orchestra four years earlier.
"Les Noces: – what a great piece! What great pianists! (including Peter Serkin and Ruth Loredo) What great vocal soloists!  It was a magnificent week of the highest level of music-making I had experienced.
What a great week!  Among the highlights was a mind-boggling concert performance of a Schoenberg string quartet (I don't remember which one), and a very memorable dinner at Hogback Mountain hosted by Mr. Bookspan, who was certainly one of my idols.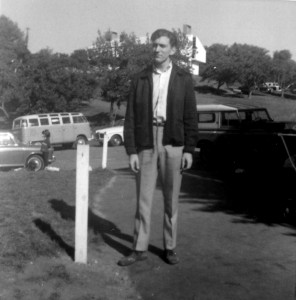 1968
Just before NEXUS formed as an ensemble, in the summer of 1968, members of the group – Bob Becker, Robin Engelman, John Wyre and I – came together at the Marlboro Music Festival to perform the percussion parts in "Les Noces"  again with Kirchner conducting.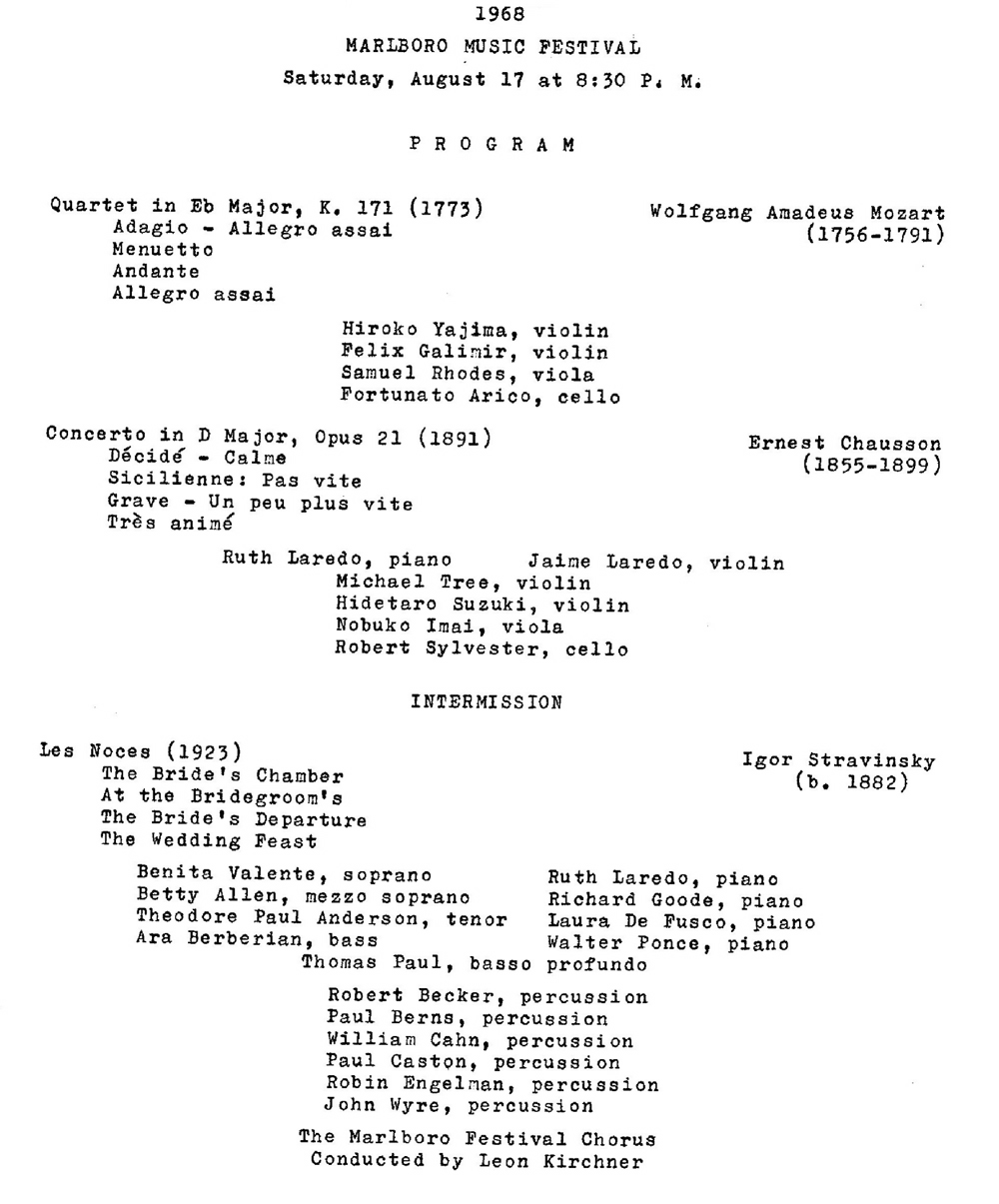 John was still the timpanist/percussionist in residence at Marlboro.  During his residency that summer he had used some of his free time to visit the local antique shops in search of unusual percussion instruments, especially bells and gongs.  In one shop he found a set of bronze, dome-shaped Japanese temple bells, which he purchased and suspended in the backstage percussion storage room.  John had been collecting bells of Asian origin for some time and these new acquisitions were to be added to his collection.
After one of the Stravinsky morning rehearsals, with all of the percussion instruments removed from the stage and arranged back in the storage room, all of the percussionists just started having fun and experimenting.  We amused ourselves by challenging each other to play orchestra excerpts and soon we were playfully distorting them in any imaginative way possible.  John's temple bells came into play for a moment in one of the distortions, the fast and tricky xylophone passage from Gershwin's "Porgy and Bess."  Of course, the temple bell pitches were all wrong because the intonation of the bells fell somewhere in between the notes of the chromatic keyboard scale, all of which made for a great outpouring of fun and laughter.
One result of this shared experience (and our shared musical sensibilities) was that our friendship increased and a mutual willingness emerged to go beyond the restrictions with which our musical thinking had been formally educated.  Gradually from that time forward in our music making, "notes" and technical issues became diminished in importance and joyful expression became more of a concern.
1972
Marlboro again influenced the members of NEXUS when – one year into our ensemble's existence – several members (Bob, Bill and Russell) came together at the Marlboro Festival to perform Messiaen's incredible chamber work, "Oiseaux exotiques," featuring pianist, Peter Serkin.  Bob Becker played the very challenging xylophone part to perfection, and a great performance took place conducted once more by Leon Kirchner. In the ensemble also was clarinetist, Richard Stoltzman, with whom NEXUS would perform again in the 1990s.
The performances at Marlboro were (and are) always of the highest order, with pure musicianship in evidence in every sound.