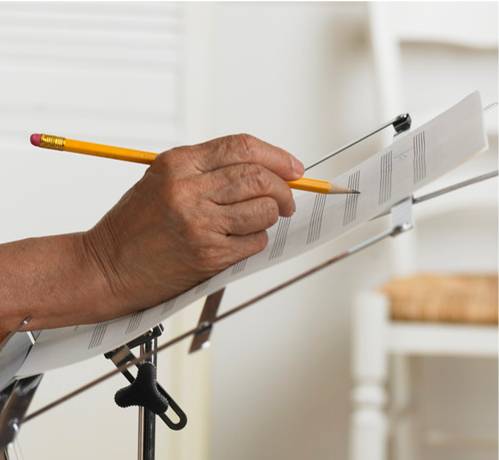 Creating, commissioning and developing repertoire is a huge part of NEXUS. New material is always in the works, written by all the NEXUS members, each of whom is a composer in his own right. For example, Bill Cahn is composing a wind ensemble accompaniment for his NEXUS piece Night Ride. Bob Becker is writing a new quartet plus creating new arrangements of rags and 1920s dance music. Garry Kvistad has written Tiki Time for NEXUS, and Russell Hartenberger's beautiful Invisible Proverb can be heard on the NEXUS recording Drumtalker. At the upcoming NEXUS concert at SUNY Ulster, NEXUS is performing Bill's new piece Crystal Cabinet.
This past year NEXUS has had the great honour of premiering a lovely new work by Gordon Stout that you can read about here, and a new wind-ensemble/percussion work by Eric Ewazen. If you live in or near Ontario, Canada, you will have a chance to hear NEXUS perform Eric's piece once again, in Barrie (a city just north of Toronto) in early March. The piece was inspired by Inuit drumming. Mr Ewazen has also re-arranged two movements of his piece as percussion ensemble solos, so they can be played without wind ensemble.
NEXUS is well-known for it's commissioning activities. It's signature orchestral work by Toru Takemitsu, From me flows what you call Time…, has just been performed in Japan, and NEXUS will also be performing it with the Austin Symphony in Texas this coming spring. The piece has garnered extraordinary reviews over the years. One reviewer calls it "a strangely beautiful, lushly erotic work". (You can listen to it here). The concerto Rituals, created for NEXUS by Ellen Taaffe Zwilich is called "one of the most melodious and harmonious of percussion concertos and one of Zwilich's most exciting compositions to date". (Listen to it here)  And of course, most recently, the fabulous new Mallet Quartet by Steve Reich, called "an unashamedly optimistic and radiant work, full of the driving rhythms, catchy melodies and beautiful harmonies for which Reich is famous."  You can download more press quotes about these three wonderful works by clicking here and then scrolling down to the "Information?" section halfway down the page.
More new repertoire is in the creation stage as you are reading this, so continue to check back here for news. And don't forget that NEXUS offers a workshop where they present and discuss their repertoire for aspiring students of percussion.