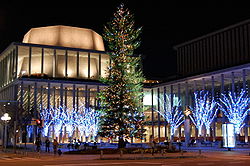 In two weeks' time, NEXUS will be performing in the extraordinarily beautiful Hyogo Performing Arts Center in Nishinomiya City near Osaka and Kobe in the Hyogo Prefecture. As mentioned in my earlier blog post, the Center was opened in 2005 to mark the ten-year anniversary of the Great Hanshin Earthquake which largely devastated Nishinomiya and the surrounding cities. The NEXUS concerts will take place in the Grand Hall of the Center. The Grand Hall seats 2000, and is used not only for orchestral concerts like NEXUS', but also for ballet and opera performances.
The interior is almost entirely wood, designed for optimal acoustics. Audience members can sit on the inclined floor seating area, or in one of the hall's four balconies.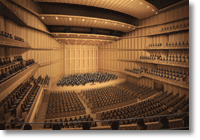 The Performing Arts Center also features a beautiful sculpture by Kan Yasuda, seen in the photo below.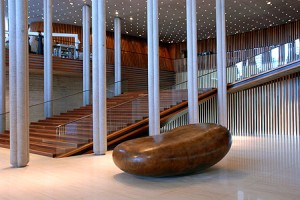 You can see more of Kan Yasuda's exceptional works in Italy, Korea and other parts of Japan, by clicking here.
Another feature of the Hyogo Performing Arts Center that we know NEXUS will find of interest, is the Igrek Theatre Restaurant. Check out their mouth-watering and visually luscious presentation here, that also provides a few more glimpses of this beautiful arts center. (The entrance to the restaurant is on the upper level in the upper left corner of the above photo).