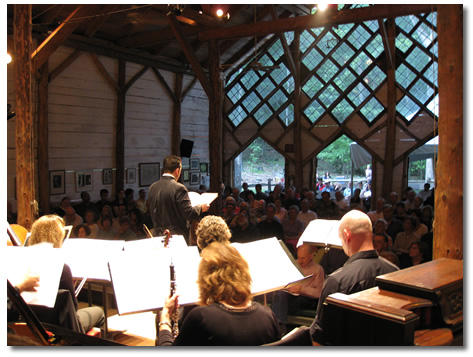 You couldn't ask for a better Day Trip opportunity than the NEXUS concert on July 31st in "the most famous small town in the world", Woodstock, New York. Featuring NEXUS, Reich and at the Ojai Festival in California, the audience's cheers forced three curtain calls and the reviewers used phrases like "one of the peak experiences of my musical life", "a performance for the ages", "one of the most memorable performances I've ever witnessed", and "positively transcendent". Here is the East Coast's chance to hear this remarkable piece, played perfectly by the composer and musicians who understand it intimately.  (And don't forget: CBC's Concerts On Demand has the NEXUS and Steve Reich Live! concert of April 29th available for your listening pleasure. Just click here.)
Woodstock has been an artists' colony since 1902. It is located in the Hudson Valley in the foothills of the Catskills below Overlook Mountain. The July 31st concert will be in the Maverick Concert Hall, home to the oldest summer music festival in the US. In it's woodland setting, the Maverick is a beautiful hand-constructed barn with a 30 foot timbered roof, unusual angled windows and a spacious stage that wraps the performers in wonderfully warm acoustics. It has an extraordinary history that dates from the early 1900s.
This concert begins at 8:00 in the evening and is part of the 19th annual Woodstock Beat. It will be a benefit concert for the Woodstock Byrdcliffe Guild. For tickets, contact the Woodstock Guild at 845-679-2079 or click here. Sponsored by Woodstock Chimes Fund. Address: 120 Maverick Road, Woodstock, NY.