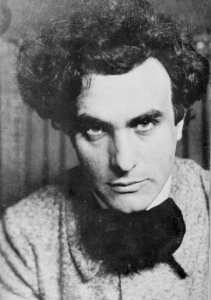 I have been reading wonderful notices at the Ojai Festival in California not long ago.
Slonimsky was a gifted musician who was born into a remarkable Russian family in 1894, fled his homeland during the Revolution of 1917 and emigrated from Europe to America in 1923 at the invitation of George Eastman (inventor of the Kodak film) who had recently founded the Eastman School of Music in Rochester. (Our own Bill Cahn teaches at the Eastman School today).  Slonimsky tells us that Eastman liked to have music played while he had breakfast and Slonimsky often played for him with a violinist, a cellist or both. "His breakfast took precisely 35 minutes and he paid $35 a performance to each of us, an amazing largess for the time. "
Slonimsky was in Rochester to be opera coach of the newly organized American Opera Company with Rouben Mamoulian, Albert Coates and Eugene Gosses and Vladimir Rosing. Rosing took Slonimsky along as an accompanist on a tour of Canada where "we played in such fantastic places as Moose Jaw." The American Opera Company eventually "expired ingloriously" but it was Slonimsky's introduction to North America  – and to the English language, of which he became a master!
Slonimsky called the 1933 world premiere of Ionisation "a fantastic experience".  A critic called it "a sock in the jaw."  Varèse had been best man at Slonimsky's wedding in 1931, and dedicated the score of Ionisation to Slonimsky, as can be seen on all copies today. Here is Slonimsky's story of Ionisation:
"The score included only indefinitely pitched percussion instruments and two sirens. Varèse was still in Paris, and I had to lead the performance without his commanding presence. The process of ionisation, as Varèse had patiently explained to me, is one in which an atom liberates an electron and assumes a positive electric charge. The free electron travels until it is captured by another atom which then assumes a negative charge. The harmonic tremor of these subatomic events is reflected in the score….
"Dealing with the world of infinitesimal particles, Ionisation presented considerable problems to musicians unaccustomed to differential calculus. The metrical divisions were simple, but the rhythmic segments within them were asymmetric, and the players had a difficult time in encapsulating groups of five sixteenth-notes within the metrical unit of a singe quarter-note, particularly where Varèse inserted sixteenth-note rests to replace certain notes of the quintol.
"…Varèse returned to New York in time for the recording session. We engaged the percussion players from the New York Philharmonic, but it soon became clear that they could never master the rhythms. In desperation, we appealed to fellow composers to take over the task; to them the Varèsian asymmetry was child's play.  As a result, my ensemble was star-studded. Carlos Salzedo, the great harpist, played the thematically important Chinese blocks. Paul Creston was at the anvils. Wallingford Riegger rubbed the guïro. Henry Cowell pounded tone-clusters on the piano keyboard. William Schuman, then a mere youngster, pulled the cord of the lion's roar. (A third of a century later, Schuman reminisced…'Slonimsky launched me on my musical career…when he entrusted to me the part of the lion's roar in Ionisation. But apparently I did not do very well, for he never engaged me again.') Varèse himself was in charge of the sirens. They had to be of the manually operated type in order to produce the requisite crescendo and diminuendo. Varèse managed to obtain a set from a retired fireman of the New York City Fire Brigade. We planned to have the performance broadcast over the Municipal Radio Network, but hit an unexpected snag: only the fire department was permitted to broadcast the siren call.
"…Varèse never doubted the importance of these first steps in projecting his works on the slow march of music history…[He] believed that the impossible was inevitable, but he had periods of dismay. He spoke of abandoning composition in favour of mathematics and engineering, courses he took as a youth. I recall him showing me an annual royalty statement from his publisher – 37 cents in postage stamps (so small an amount did not justify a acheque). Fortunately Varèse lived to see the footsteps of history catch up with his gigantic strides. A concert of his works given in New York City's Town Hall in the late 1950s attracted a full house."
Postscript: In 2008, NEXUS' audience filled the Libbey Bowl at the Ojai Festival. In addition to Varese's Ionisation (which L.A. Weekly referred to as "the granddad of all bang-away masterpieces"), the programme also featured Piano Etudes by Ligeti and Drumming by Steve Reich.  So I've Heard called it "one of the best Ojai Festival concerts ever." Sequenza 21 critiqued, "The first half ended with an absolutely brilliant performance of the Varèse Ionisation…It was a treat to have musicians of this skill."
Nicolas Slonimsky's autobiography holds an abundance of musical treasures. Have a look!