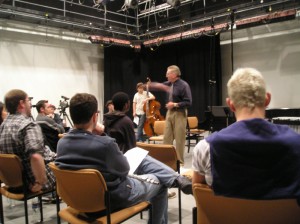 While NEXUS is in Windsor, Ontario rehearsing with the Windsor Symphony Orchestra for a performance on October  5, we're also presenting workshops and masterclasses for students at the University of Windsor. On October 1, I presented a two-hour "Creative Music Making" workshop for about 18 student participants in the Contemporary Music course of Dr. Brent Lee, playing on various instruments – flutes, saxophones, electric guitars, double-bass, trumpet, trombone, piano, voice (soprano and tenor) and percussion.
In the morning session five small ensembles (trios and quartets of the student participants) were formed on the spot, and each ensemble was given the opportunity to create its first freeform improvisational piece.  As each ensemble played, the performance was recorded for immediate playback and analysis.  I must say that I was pleasantly amazed at some of the incredibly wonderful moments of consonance that unfolded right from the very first improvised piece, and then continuing on through each succeeding improvisation.
The two-hour morning session was in preparation for an evening performance in front of about sixty fellow students, faculty and the general public.  In the evening concert there were four freeform improvisations, each performed by an ad-hoc quartet.  All of the ensembles performed with a  level of confidence and conviction that was somewhat surprising, because this concert was only their second experience in freeform improvisation. The pieces were each about 6 to 7-minutes in length (though no specific lengths had been pre-planned), so there was plenty of time for everyone – performers and audience – to listen to the recorded playback of each of the pieces, followed by an informal discussion of the experience.  My sense was that that the "Creative Music Making" experiences were genuine eye-openers (and ear-openers) for most of the participants.
Meanwhile, earlier in the afternoon, all of NEXUS participated in a masterclass for the University's percussion department.  The student percussion ensemble played for NEXUS followed by several soloists performing on snare drum and marimba.  The student performances inspired fascinating discussions about various aspects of percussion performance and repertoire.
If and when additional photos of the sessions arrive, they will be posted here.