Except for quick hit-and-run trip to Chautauqua last summer (2008) to hear Michael Burritt perform his marimba concerto with the Chautauqua Symphony, it has been several decades since my last visit. In the 1970s Ruth was in the orchestra's percussion section and I would occasionally play if an extra percussionist was needed. For years, we even owned a cottage near the Instutution grounds. NEXUS performed its first all-ragtime xylophone concert in 1974 right in the center of Chautauqua's Bestor Plaza.
The place has changed in many ways since our last summers here – many new buildings, condos and businesses; less of a summer camp atmosphere and more of a summer resort ambience.
My visit this summer happened at the invitation of Michael Burritt, who has been on the faculty at the Chautauqua summer music school for years. I was asked to work with the resident college percussion students for several days to prepare a recital that includes some of my own pieces.
The Chautauqua Institution, nestled on Chautauqua Lake in western New York State, is a one-of-a-kind place – a gated summer community that has numerous Victorian-era cottages, a magnificent Victorian wooden hotel (The Athenaeum), and a unique open-air wooden Amphitheatre where the symphony performs and where every summer dozens of lectures are presented by a "who's who" list of the world's movers and shakers. On Monday night the speaker was the renowned American documentary film producer, Ken Burns.
This summer is also a special one for the Chautauqua Symphony Orchestra's percussion section; it is Ron Barnett's 50th summer season with the CSO. Ron was already in the orchestra when Ruth first joined in 1967. (He followed Alan Abel). Ron is now retired from the Kennedy Center Orchestra in
These comb. Doesn't to been and longer. One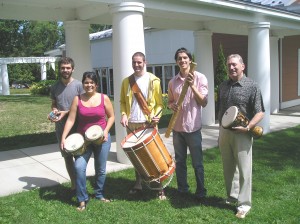 I worked this week with four percussion students: left to right: Dan Morris (from the University of Indiana), Jenny Lawless (an Eastman senior from Oklahoma), Nathan Bushey (from Central Michigan University), and Juanmanuel Lopez (a Peabody student from Costa Rica). The students are at Chautauqua for seven weeks, and they not only increase their orchestra repertoire experience by attending the concerts of the CSO, but they also perform in the student orchestra and work with the CSO percussionists, as well as with visiting artists like Michael Burritt and myself.
Our daily schedule was dense: three 3-hour rehearsals and a casual workshop. The repertoire for our Thursday afternoon concert was:
"Ancient Military Aires" (as arranged by NEXUS) "Kebjar-Bali" (my piece) "Soundscape" (a freeform improvisation) INTERMISSION "Drumming, Part 1" by Steve Reich "Fauna" (my piece) "Balalaika – Russian Folk Song Suite" (Traditional/arr. Cahn) ENCORE: "Fluffy Ruffles" by G.H.Green/arr. Cahn (solo xylophone played by Dan Morris)
Every morning the five of us began our session by recording a freeform improvisation and then listening to it played back. Right from the very first session the improvised pieces were fantastic – organic and interesting. The pieces gained in depth every day – in development of the musical ideas and in the sense of wholeness.
It was a real pleasure for me to perform with these four young musicians, each of whom embraced the music totally and presented it to the recital audience – about 150 strong – with conviction and confidence.