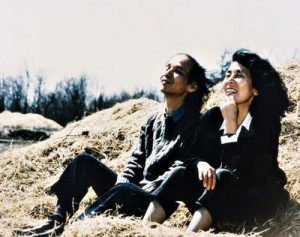 NEXUS' most recent CD Wings features a number of songs by NEXUS' friend Toru Takemitsu who is recognized as one of the world's great modernists. But Takemitsu also had a great appetite for and vast knowledge of Western popular music and he drew on this in much of his work, creating film, radio, TV and theatre scores, and a series of elegantly lovely songs for which in many cases he provided text as well as music. Takemitsu's songs were created originally for a capella chorus in a song cycle called simply Uta (Songs), 1979-1992. NEXUS members Robin Engelman, Bill Cahn and Bob Becker have arranged 7 of the songs for the CD. The liner notes reveal the workings of translating choral music into percussion music.
For A Song of Circles and Triangles, Robin was reminded of Doo Wop, "a commercial rhythm and blues vocal style" of the 1940s and 50s, so while the melody is Takemitsu's, the accompaniment is Robin's "personal take on Doo Wop".  You can listen to a portion of it here. Similarly, in "Will Tomorrow I Wonder be Cloudy or Clear", Robin heard the song's 1940s pop style and immediately thought of a shuffle done with brushes on a snare drum.
The beautiful traditional Sakura (Cherry Blossoms) suggested the "resonant floating sounds of tuned metallic percussion," while the military allusions in the text of "All That the Man Left Behind When he Died" coupled with the "Scot's snap" rhythm used by Takemitsu led Robin to create a snare drum part modelled on present day Scottish drumming.
In the title piece Wings, Bob Becker kept Takemitsu's harmonizations for mixed chorus and arranged the piece for marimbas and vibraphone. Takemitsu composed Wings for the staging of Arthur L Kopit's play Wings in 1982, and also wrote the text of the song. It begins "Oh wind, oh clouds, oh sunlight! You're the wings that carry my dreams."  You can listen to a portion of Bob's arrangement here, and you can read a few more of Takemitsu's delicate texts towards the bottom of the NEXUS Solo Recital page here.
Bill Cahn's Just Sing was inspired by Takemitsu's I Just Sing. Bill quotes fragments of the melody and harmonies of Takemitsu's original song, creates various juxtapositions of the fragments, and adds layers of other material and sounds on top, in a very unusual orchestration that uses long marimba tremolos punctuated by harmonicas and toy accordions that "sigh abruptly".  Bob Becker took on Unseen Child which Takemitsu had originally composed as the theme song for the Iwanami film She and He. (Similarly Takemitsu used his own music for the film Furyo Shonen to provide the core material for his Song of Circles and Triangles). Bob radically altered Unseen Child in his arrangement for percussion, using Takemitsu's melody as material, but not quoting it exactly. Nonetheless, Takemitsu's original song can be discerned. Both Bill's Just Sing and Bob's Unseen Child straddle the boundary between arrangement and new composition. As Bob comments, "Both can be viewed as arrangements in the same way that Stravinsky's Circus Polka For a Young Elephant is an arrangement of Happy Birthday To You."
For more on The Music of Toru Takemitsu, you can have a look at the book of the same name, written by Peter Burt, here.