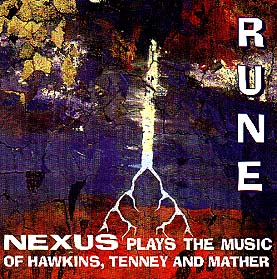 NEXUS plays the Music of Hawkins, Tenney and Mather
A new recording featuring three major works, all commissioned by and composed for Canada's premier percussion group NEXUS by award-winning Canadian composers John Hawkins, James Tenney and Bruce Mather.
---
Dance Variations(20:55) John Hawkins
I (1:46)
II (1:19)
III (7:11)
IV (6:51)
V (2:11)
VI (1:33)
In 1983 John Hawkins was awarded the prestigious Jules Léger Prize for new chamber music.Dance Variations is a six movement work composed with a deceptively "popular" melodic and harmonic vocabulary, yet it remains one of the most rhythmically complex and challenging pieces in the NEXUS repertoire.
Rune (20:14) James Tenney
0′ (first part)
8′ (second part)[audio:Runetwo.mp3]
A recent winner of the Jean A. Chalmers Award, composer, theorist and author James Tenney has received international recognition and acclaim. Rune is an extremely colourful work, employing instruments of wood and metal, as well as drums and rattles. Its structure is based on stochastic principles employing "pitch streams" and a "centre of gravity".
Clos d'Audignac (15:49) Bruce Mather
(solo marimba)
(ensemble entrance)
cadenza I
(interlude)
cadenza II
(coda)
One of Québec's most important composers, Bruce Mather has twice won the Jules Léger Prize for new chamber music. Clos d'Audignac is one of Mather's many compositions inspired by fine wines, which led to his being initiated into the "Confrérie des Chevaliers du Tastevin" at the Château Clos de Vougeot in 1987.
---
CREDITS
Editing and Assemblage, Mark Wright and Bob Becker
Mastering: George Graves, Lacquer Channel
Hawkins produced with the help of Westdeutscher Rundfulk Köln, WDR
Tenney produced by Ray Dillard and Bob Becker, Masters Workshop, Toronto
Mather produced with the help of the Canadian Broadcasting Corporation, CBC, Toronto
Recording project generously supported by the Ontario Arts Council