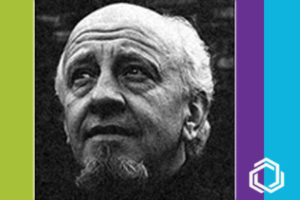 In 1988 the distinguished Canadian composer Norman Symonds (1920 – 1998) wrote a duet for accordion and marimba titled El Duo. The brilliant accordionist Joseph Petric and I premiered the piece at The Music Gallery in Toronto, and then recorded it in 2001. El Duo is included on Petric's CD "Orbiting Garden", released on the Canadian Music Centre's Centrediscs label in 2002.
The music is typical of Symond's jazz-inspired "third-stream" style, with a demanding marimba part and challenging rhythmic writing. According to the CD liner notes:
"El Duo explores a colourful instrumental combination within an extremely tight ensemble context. In writing for this combination, Symonds exploited the liquid harmonies as well as the dark and percussive character of the marimba. The accordion part is treated alternately as a big band reed section, rhythm section, saxophone choir, cadenza soloist, and in the slow sections of the work, as a medium of the gospel hymn. A combination of virtuosity, haunting lyricism and instrumental jousting ends the disc in fine fashion."
The recording was made by the CBC in the very rich acoustics of the Church of St. Martin-in-the-Fields, Toronto.