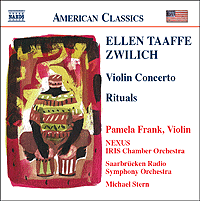 Rituals is a four-movement concerto for percussion and orchestra composed by Ellen Taaffe Zwilich. The piece was co-commissioned in 2003 by NEXUS, the IRIS Orchestra, the Pearl Corporation, Kathleen Holt and Stephen Lurie, and Adams Musical Instruments. The recording is available from NAXOS. Rituals has received high praise. New Music Box calls it  "one of Zwilich's most exciting compositions to date" and said, "Wherever you are, demand that your local orchestra programs this blockbuster piece!"   The Juilliard Journal says that it shows Zwilich "at the peak of her game."  Symphony Magazine says, "Like so many works inspired by the NEXUS quintet, 'Rituals' is a colorful sound-painting of percussion."  Sequenza 21 says that Rituals "demonstrate[s] Zwilich's unmitigated mastery of the concerto medium", while Classics Today called the piece "a total delight…highly enjoyable… enthusiastically recommended!"  The Kansas City Star covered the premiere of  "Zwilich's vigorously entertaining piece"  and described NEXUS too, saying "The animated percussionists were in excellent form, dancing around the wall of instruments like nimble cats."
The cover of the CD features a painting by Julie Delton (licensed through Getty Images) called African Drummer. Delton, a full-time artist/illustrator who lives in St Paul, Minnesota, studied in Minnesota and in London, England, and has worked as a freelance illustrator since 1989. She tends to work small, and has developed an original technique that can be seen in African Drummer that combines watercolour and inks with resist.  She describes it as similar to the process of batik on fabric. The result is a textural "block-printed" look, which she developed in London while studying etching, lithography, and wood-engraving. What is most important to her is colour, texture and spontaneity and in her current paintings she strives for rich texture in which "all the brushstrokes, glazings, scratches, chips and colour fragments are deliberate", contributing to a somewhat "distressed" and "primitive" look.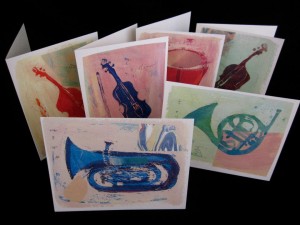 Here are some examples of her work featuring musical motifs. You can see more of Julie Delton's work at the site of her representative, Helen Ravenhill.
Delton recently "opened" her own Etsy shop,  and also has a line of rubber stamps at www. pictureshow.etsy.com You can also find The Julie Delton Studio on Facebook.