On Oct. 22, 2014 Ruth and I presented two 45-minute workshops for about 40 middle and high school students visiting Rochester as part of the Meritas education program.
Meritas is a family of schools that support PreK-12 education through the organization's unique approach to personalized learning, which prepares students to succeed at their top choice college and beyond.  Driven by incredible teachers, personalized instruction, and innovative global experiences, Meritas students graduate with the critical thinking skills needed to pursue a meaningful, purposeful life of learning.
The Meritas music students came together in Rochester from New York City, Houston, Phoenix, San Francisco, and Brazil to focus on music performance while also participating in several workshops on general music subjects, and attending concerts at the Eastman School of Music. This was Ruth's and my second experience with Meritas. We participated in similar workshops in 2013.
Each of the two workshops that Ruth and I presented had about 15 students participating. The students were mostly non percussionists. Both workshops opened with a brief description of four general concepts regarding African music in which percussion instruments play a major role.
Concept 1 – In general, the music is communal, with everyone participating in playing, or singing,  or dancing.
Concept 2 – Because everyone participates, the music consists of relatively simple and easy-to-perform individual parts, which when combined create an overall complexity in the music.
Concept 3 – The music is cyclic, with basic patterns that repeat over and over with occasional variations added.
Concept 4 – The cyclic patterns can often be perceived in various ways depending on where in the pattern the performer or listener hears the beat (which may also be called, the "hidden beat"). For example a 12-beat cycle may also be perceived as a cycle containing 2, 3, 4, or 6 larger beats.
To demonstrate these concepts everyone listened to a short field recording of Ugandan musicians playing an amadinda – a type of xylophone having a single row of relatively large wooden boards played by three musicians, with two players on one side and a single player on the other side. After listening each participant was invited, one-by-one, to perform with me on my own home-made, 12-key, board xylophone.
The second-half of the workshop was facilitated by Ruth, who had the participants try out several eurhythmic exercises, aimed at the development of each participant's sense of inner rhythm. Then everyone was given a pair of snare drum sticks, and as we all stationed ourselves around a cafeteria table, we tapped out several rhythmic patterns and then learned a few of the common drum rudiments – tap, flam, paradiddle, double-partadiddle. Ruth also helped two of the students with college audition and career counciling.
The Meritas participants concluded their day of workshops and rehearsals (band, orchestra and choral) with an evening performance by several of the guest faculty members. Ruth and I performed several pieces to demonstrate a variety of percussion sounds:
1) Music for Fife and Drums (membranophones) with pre-sampled fife tunes: "Three Camps" and "Yankee Doodle" along with a demonstration of a few common drum rudiments – tap, flam, ruff, paradiddle, ratamacue, and momma-dadda roll.
2) Improvised music on a Häng Drum and a "Hapi" Drum (metalophones)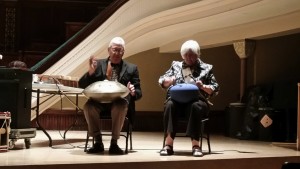 3) Improvised music on a home-made amadinda (xylophone)
All in all, the Meritas students seemed to be deeply engaged in the workshops and performances – a probable indicator of likely future success.