Here's an unusual bit of early NEXUS history. The Internet Movie Database references John Wyre and NEXUS providing the soundtrack for a 1974 film "Monkeys in the Attic: A Film of Exploding Dreams".
The film won the  Prix Khalimer as well as Best Foreign Film at the Toulon Film Festival in  France in 1974. Written, produced and directed by Morley Markson, the Fellini-esque movie featured Jackie Burroughs, Victor Garber, Louis Grande, Jim Henshaw and Jess Walton. The Canadian Film Encyclopedia describes it as being "as carefully conceived and structured as [Markson's] others, a precisely modulated and often funny exploration of the clash of egos."
The images here come from Morley Markson's website where we also find "The Director's Vision":
"Altogether a domestic imbroglio.  Four self-absorbed artists living together in one mad house as if in one mad mind but all somewhere else who knows where, lost each in themselves and in their search for  the perpetually elusive love or joy or hope or whatever… in a night of craziness where nothing makes sense, their art, their fantasy, their relationships, all sheathed in a veneer of filmic formality and all amounting to nothing, dreams, vanishing like the vapours of night at sunrise."
After polling all NEXUS members past and present, we are certain that John Wyre and Robin Engelman worked on the soundtrack. We are not sure if Michael Craden was involved, although he was certainly a NEXUS member at that time, and based in Canada. If anyone has more information, we would love to hear from you. Russell, Bill and Bob did not participate in the creation of the soundtrack. All online references that I found to the film credit "John Wyre and NEXUS".
CINEMA CANADA called it "…an extravagantly good-looking film, full of energy and inventiveness…male and female, gay and straight, dreams and realities, clowns and tragic people, seekers and forsakers, death and life itself are played off by this very skilful director… Jackie Burrough's "Wanda" is sensational and the rest of the cast equally impressive…a deeply moving, phenomenally funny film…."  A full analysis of this complicated and wild film by Dr Maurice Yacowar can be found here.  Yacowar mentions the soundtrack, saying "[The film] has a finely modulated and inventive soundtrack and settings, delicate camera movement, subtle editing, and is splendidly conceived and realized. But as well as sensually, the film is his most rewarding emotionally and intellectually…The soundtrack is often subjective too, as the overwhelming drip of the tub taps, for instance."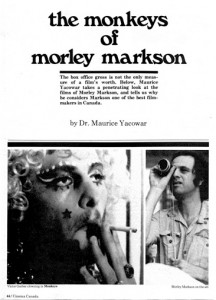 MOTION MAGAZINE called Monkeys in the Attic "…one of the finest films to come out of English Canada… one of the most effective film performances I've seen anywhere… a series of tightly-integrated confrontations between the players with a continuo of the absurd… there isn't one second in the film that isn't contributing to the director's vision and, in this respect, Monkeys in the Attic is the most tightly controlled Canadian feature I've seen… an intense and unusual film."
Bob Becker remembers John Wyre describing the film to him, in particular its most famous "pizza delivery scene " where all the characters ended up in a swimming pool.
One final bit of trivia: Co-star Jim Henshaw went on to become well-known as Bright Heart Raccoon in the first two Care Bears movies!