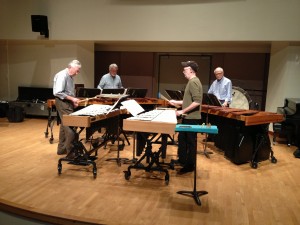 NEXUS is deep into rehearsals for their performance of Steve Reich's Mallet Quartet at  CELEBRATE WITH SOUNDSTREAMS! 30th Anniversary Season Spectacular concert on Thursday Oct 11 at Koerner Hall here in Toronto. Don't miss out, get your tickets NOW.   Last time NEXUS performed this piece at Koerner it was sold out! And it's going to be an amazing evening. As well as Mallet Quartet, Garry and Russell are going to perform Reich's Clapping Music.  As you enter the lobby of Koerner Hall you will encounter Omar Daniel's new work for voice and live interactive electronics. For the new Schafer piece the strings and vocalists are staged in an intermixed circle!  This will have the effect of the sound swirling around between the vocalists and strings. Find out more about What It Takes to Celebrate Soundsteams, here. 
The performers for October 11 will be David Fallis conductor, Joaquin Valdepeñas conductor, NEXUS, Ryan Scott percussion, Shannon Mercer soprano, Julie Ranti flute, Patrick Arteaga sound design & technical assistant, Choir 21, The Gryphon Trio, Virtuoso String Orchestra. The repertoire for the evening will be:
Omar Daniel: Prologue, Entr'act and Postlude (World Premiere in the lobby)
Paul Frehner: Berliner Konzert (excerpts)
Analia Llugdar: Sentir de Cacerolas rev. 2012 (World Premiere)
Arvo Pärt: Orient & Occident
Steve Reich: Mallet Quartet
R. Murray Schafer: The Love That Moves the Universe
Fuhong Shi: The Mountain Spirit (World Premiere)
You can check out the House Program and complete Program Notes here.
And DON'T FORGET about the FREE workshop with NEXUS and Swiss drum set artist Fritz Hauser on the afternoon of October 12th at the University of Toronto. Read more about that, here.