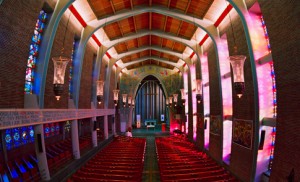 Tomorrow night, NEXUS is appearing at the Wittenberg's innovative music department. Well, here is another of their innovations: Check out the university's "Composer of the Day"  iPhone App – . It's free, for both iPhone and iPod touch.   It is "a daily dose of music information: 366 composers (yes, one for Feb. 29 too!). Concise, one-sentence biographies. Links to sound clips for each composer.' (And of course John Chowning is included – he gave his name and tremendous support to Wittenberg's Laboratory for Music Technology)
Composer of the Day was designed and developed jointly by Wittenberg Professor of Music Daniel Kazez and his son Ben Kazez of the Michigan-based mobile travel app startup Mobiata. The biographies were created by a team of Wittenberg music majors, faculty, and alums. USA Classical music station WQXR  named Composer of the Day one of the Top Five Classical Music iPhone Apps. (Their list of 5:
Los Angeles Philharmonic
Oxford Dictionary of Music
Wittenberg's Composer of the Day
Royal Concertgebouw Orchestra of Amsterdam
Karajan: Music and Ear Trainer),
The Lowe Piano Studio listed Composer of the Day in their "Wish List of iPhone Apps That I'd Like For Droid [Android Smartphone]."
If you have questions regarding Composer of the Day, you can contact Professor of Music Daniel Kazez (dkazez@wittenberg.edu)
Now I think the NEXUS members are arriving in Springfield as I write this, so Get Ready, Wittenberg!!