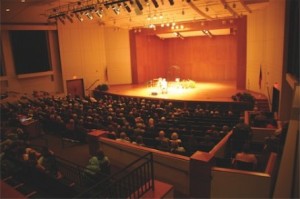 This week, instruments and NEXUS musicians are heading from all directions to LaGrange College in Georgia, for their performance on March 23rd at 7:30 pm in the popular Callaway Concert Series at Callaway Auditorium. Check out the College's fun video promo by clicking here.  Percussionist Ken Passmore will join NEXUS onstage for Steve Reich's Music For Pieces of Wood. NEXUS is the closing event for this year's Series, so they are really going out with a bang.
LaGrange College offers a Bachelor of Music in Percussion Performance. Music Department Chair Dr Toni Anderson says, "Our students have been begging us to bring a group such as Nexus to our campus. They are really excited about hosting this ensemble, especially our percussion majors and the other students who form our own percussion ensemble." In the College's news report,  Dr Anderson describes the NEXUS  musicians as "unlike any others who have performed in the concert series, and the performance will offer great music and more. This will be more than just a thrilling concert – it will also be a valuable learning experience for our percussion majors.The virtuosic performances and rhythmic precision of NEXUS is certain to wow the entire audience, but none more so than our students."
Columbus State University students will also be coming down to LaGrange for the event. Columbus kindly helped out with some required instruments. We must also thank Ann Sellman of LaGrange College for making this event happen. Tickets at the door will be adults, $20, and students, $10. They may be purchased online at www.lagrange.edu/callawayconcertseries or click here.