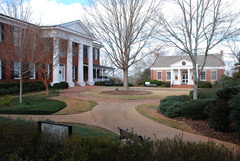 That's the motto of LaGrange College in west-central Georgia, and NEXUS will be doing just that in a few weeks when they perform there, in the Callaway Concert Series.
LaGrange is the oldest private college in the state of Georgia, with an enrollment of about 1000 students.   Renowned for its offerings in drama, music and art, and for its intentionally small class sizes, the college was founded in 1831. It began as a female educational institution called LaGrange Female Academy, and was first housed in a large white building just across the street from the current campus. In 1842, the academy moved to the present location on "the Hill", which is the highest geographical point in the city of LaGrange. The institution changed its name to LaGrange Female College in 1851, then to LaGrange College in 1934. The school officially became coed in 1953. Here is the handsome lobby of the Callaway Auditorium: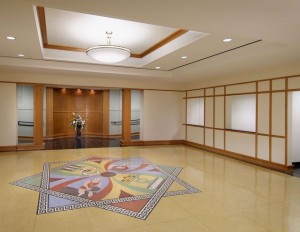 Interestingly, the city of LaGrange is named after the the Marquis de La Fayette's country estate near Paris, France. La Fayette visited this area of Georgia in 1825. The city is very close to the huge lake called West Point, a few miles to the west, making it a tourist destination for bass fishermen. I'll remind the guys to pack their rods and reels! The lake was formed by damming the Chattahoochee River.
NEXUS is looking forward to visiting this picturesque area on the border between Alabama and Georgia. Bob and Russell will be driving into LaGrange from Troy, Alabama where they are presenting some workshops, while Bill and Garry will make there way to LaGrange from points north.
The students of LaGrange College have a fun and unusual tradition of painting The Rocks on the Residential Quad. The one and two ton boulders change color and design almost weekly, representing fraternities, sororities, celebrations, special events, and just creative expression. Here are a couple of photos, and you can see more by clicking here. Who knows?  Maybe by the end of March there will be a NEXUS Rock!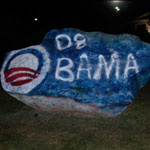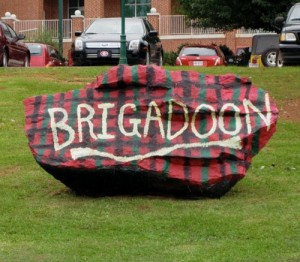 LaGrange College has retained its Methodist ties throughout its history. If you have been following my recent blog posts, you will have noted that NEXUS begins March at California Lutheran, then heads to Episcopal Collegiate in Arkansas, and continues on to LaGrange with its Methodist roots.  Next week I will tell you about March's end at Wittenberg University in Ohio, with its Lutheran beginnings, bringing us full circle!