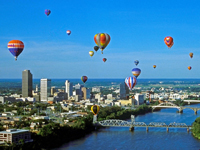 NEXUS is heading into Little Rock, Arkansas on Monday for a busy residency at Episcopal Collegiate School. If you missed it, you can click here to read all about the full programme. Little Rock is the vibrant capital of Arkansas, and Episcopal Collegiate is close by the Arkansas River that flows through the city. The city grew up, about 120 miles upstream from the confluence of the Arkansas and the Mississippi rivers. And there really is a little rock there. There is a picture of it below. As French explorers in the 1700s ascended the Arkansas from the Mississippi flood plain, the first real rock outcropping was noticeable. Here the foothills of the Ouachita Mountains first touch the river, creating a natural plateau.The French called it "le petit rocher". The name stuck, and the landmark was used as a navigation point. Geologists call it part of the Jackfork Formation.
Is there a Big Rock? Yes! Big Rock is in North Little Rock. You got that? While the little rock is…well…little, Big Rock is the first MAJOR outcrop of rock along the river – a 200 foot bluff on the north bank of the Arkansas.
NEXUS is looking forward to a colourful time in Arkansas, probably the state with the most nicknames! The Razorback State (a razorback is a thin, long-legged wild hog that gave its name to the famous University of Arkansas athletic teams), The Natural State (for its unsurpassed and wildly various scenery), The Hot Water State (because of its hot springs), The Land of Opportunity, The Wonder State, The Bear State, and The Toothpick and The Bowie State. The latter two names refer to famous knives used in the early days. It was said that a Bowie knife had to be sharp enough for shaving and heavy enough to use as a hatchet, and had to be long enough to be used as a sword and wide enough to paddle a canoe.
Here are a couple of early photos of the Big and Little Rocks, courtesy of the Arkansas History Commission: Big Rock on the left, and the Little Rock in the right hand picture from an old postcard: